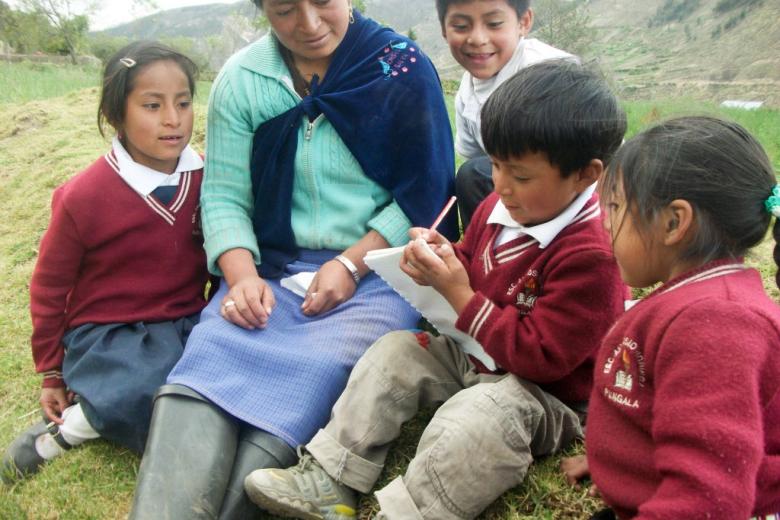 Healthy and learning
Tuesday, September 10, 2013
The Puruhay Pamba community, supported by Pungala ADP, is surrounded by crop fields and lush trees. It is in this area where four-year-old Isaac lives with his family. He is the youngest of four brothers and has been sponsored since he was six months old. Ana, his mother remembers: "Before, my children got sick a lot. When Isaac was a newborn, he got diarrhea and infections."

The chronic malnutrition rate in Pungalá is 70 percent, while underweight is 50 percent. Thanks to the World Vision´s nutrition education training, Ana learned about health, nutrition and rights, among other topics. She was able not only to improve the health status of her son Isaac but also the hygienic conditions of her home helped to reduce the frequency of illnesses in her family.
She, along with 23 other mothers in the community, is part of Heart in Family program which invites mothers with good nutrition practices and leadership potential to train others. Ana is a guide mother in her community, "We did not know how to feed and take good care of our children, but World Vision taught us," she adds.
Isaac is a happy child and is doing well at school. He loves playing football and spending time with his brothers and sisters. At present, Ana volunteers at the ADP in the sponsorship area.
With a big smile she thanks to World Vision for its work: "Before joining the program, I was shy, I was afraid to talk to people. Thanks to the workshops I have learned to take care of my children [and] take advantage of the vegetable garden. I even have been taught to raise guinea pigs [and] chickens to improve the nutrition of my "guaguas" (infant or child) she ends.