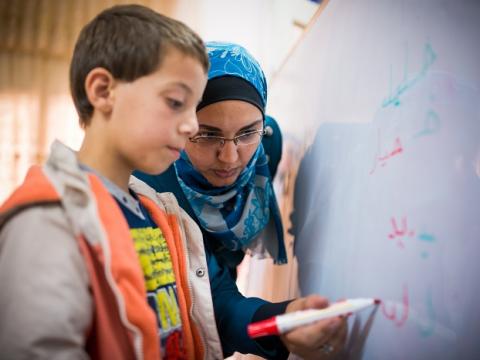 Education in Emergencies
Education in emergencies is a critical, life-saving response that works to protect children in conflict and natural disasters, and preserve their right to education. World Vision's education programmes in emergencies respond to the needs of children, parents, communities and education officials. Prior to a disaster, we work with schools and families to strengthen community based protection mechanisms through preparedness and planning, conflict education mitigation and peacebuilding.
Learn more about Disaster Risk Reduction.
During an emergency, we:
Work to ensure access to inclusive, quality learning and emotional support for pre-primary, primary and secondary school students.
Provide support and safe spaces for caregivers and babies so they can receive nutritional support, parenting counselling and mitigate the effects of the conflict on the developing child.
Help build the capacity of teachers and caregivers to support children's continued learning regardless of where learning takes place – in a classroom, living room or under a tree.
Provide teaching and learning supplies, as well as adequate spaces for learning.
Provide Child-Friendly Temporary Learning Spaces – these safe places are for children to learn, play, and receive the emotional support they need to begin the recovery process.
Partner with schools and communities to build back better, and promote stronger schools that foster peace building and conflict resolution.
Learn more about our work in disasters.
View our current emergency responses.
Education in Emergencies: The facts
100 million children and young people are affected by natural disasters every year. Most of them face disruption to their schooling. [1]
Of the 121 million children out of school globally, approximately 50 per cent live in areas of conflict.[2]
In the world's conflict-affected settings, 28.5 million primary school-age children are out of school. Of this figure, 2.8 million children are Syrian.
Attacks against schools and military use of schools has occurred in 26 countries in the past 10 years and significantly impedes access to safe quality learning[3].
Children, parents and communities consistently prioritse education during and after emergencies, even before other immediate material needs are met.
Children associate education with hope for their future.[4]
Related links:
__________________________
[1] Education in emergencies and post-crisis transition, UNICEF, 2015
[2] Children still battling to go to school, Education for All Global Monitoring Report, UNESCO, 2013
[3] Lessons in war 2015. Global Coalition to Protect Education from Attachk, 2015
[4] Fear and want: Children living in crisis in South Sudan; Real time evaluations and in the CWB reports