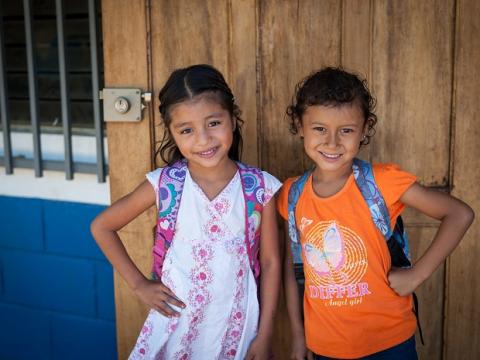 Girls' Education
Poverty, discrimination and exploitation keep millions of girls out of school. What's more, half of all girls in developing countries don't even finish primary school.
Girls' education: How far have we actually come and where do we go now?
There are many barriers to educating girls. Some must work to help their families, or stay home to care for younger siblings. Other girls simply don't have the money for educational fees or school uniforms. Parents and communities may not understand the importance and benefits of girls' education, or schools may not be safe places, especially for girls and other children that experience marginalisation. Early marriage practices may keep girls out of school too.
Girls and boys have the right to education. World Vision works to get girls into school, make sure they stay in school and supports their academic success by promoting an equitable school environment that encourages learning for both girls and boys.
Learn more about World Vision's work in gender equality
We work with all stakeholders in a girl's life – governments, families, schools, churches, traditional leadership, boys and men and the girls themselves – to create multi-layered, holistic and sustainable programmes that targets the barriers to girl's access to education, retention in school and learning outcomes.
Why educating girls is so important
Education gives girls the potential to earn better wages, raise healthier and more educated children, and have a voice in her community.
An extra year of primary school education boosts girls' eventual wages by 10–20 per cent. An extra year of secondary school adds 15–25 per cent.
Education is associated with increased contraception use, less underage premarital sex and lower HIV/AIDS risks.
When a girl in the developing world receives seven years of education, she marries four years later and has 2.2 fewer children.
Women invest 90 per cent of their income in their households, as opposed to men's 30-40 per cent, leading to healthier, better educated children and families.
Women's labor force participation can lead to reduced poverty, greater political participation, increased agency and assertion of their rights at the household and community levels.
Related links: