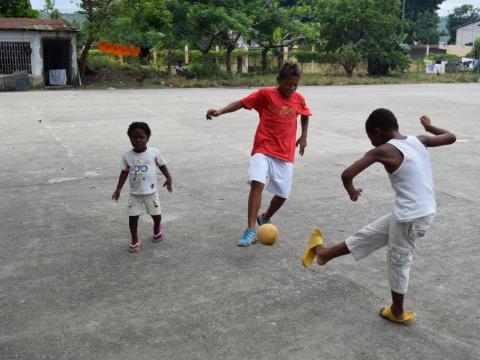 Floods wash away almost everything except hope
Thursday, February 18, 2016
After a five hour drive, hot sun beats down on visitors as they arrive at Esmeraldas, a town in the province of the same name. The area, known for its lush greenery, looked dark, covered with mud the colour of the earth. Both the Teaone and Esmeraldas rivers had burst their banks after heavy rains caused by El Niño on the 25 January.
World Vision began to respond when the first flood alert was received. More than 600 families and 730 sponsored children were affected. Staff helped those worst affected leave their ruined homes, leaving behind appliances, furniture and clothes, lost in the mud and water. On higher ground, surrounded by small houses, several tents were pitched to give shelter to mothers, the elderly, children and others who needed a place to sleep. World Vision Ecuador delivered water, blankets, and clothing in addition to food. About 100 people spent the night away from their homes.
In the following days, more people came to the shelter. Two more sites, for people affected by the flood, were established. People continued to receive water and food and, with the help of volunteers, World Vision visited each of the houses most severely affected to gather accurate information about what each family needed.
In the streets of Esmeraldas, the magnitude of what happened was clearly visible. The high water mark was indelibly imprinted the building walls – up to one and a half metres in some places and up to three meters in others. On the side of the streets people were removing furniture, clothes and anything else that survived the flood from their homes. Some furniture was drying out in the sun with the hope that it was salavagable; more was piled in corners or abandoned. Mothers sat in front of their small houses trying to do laundry; their clothes had been filled with mud. Then there were the empty houses, where huge holes where left after water had torn down the walls. Some were removing branches, debris and mud and others were trying to clear paths in the floor so the water could escape back to the river.
Mud covered everything, and some streets were completely inaccessible, the water kept help at bay.
It seemed that the only thing left by the floods was hope.
Children, oblivious of the situation, were running happily behind a ball or playing hide and seek. Neighbours and friends met each other at muster points and other safe places. Some adults were joking, or talking while they cleaned or tidied was left of their homes. Back at the shelter, a girl came running, smiling, with a book that World Vision gave to her. She was colouring it with the help of a staff member. Ecuadorians are strong, resilient and optimistic people Despite the fatigue and stress of uncertainty they people face, there is hope. With a little bit of help, people pull themselves to their feet and smile.