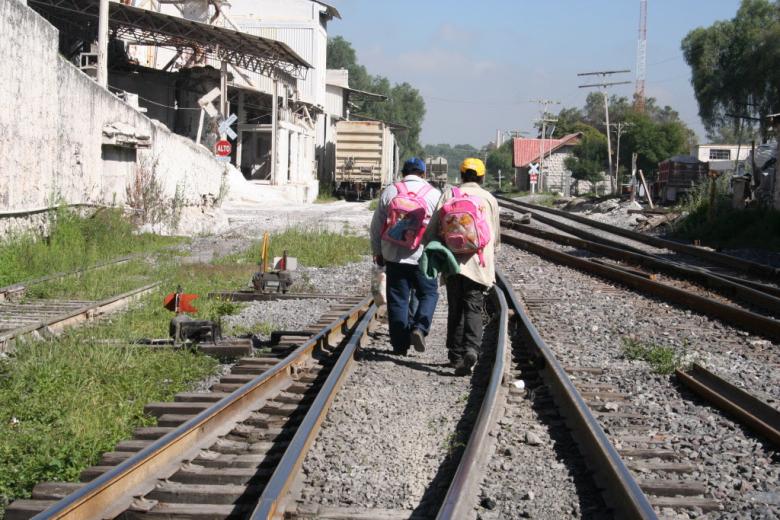 Four years fleeing from violence
Monday, August 4, 2014
Mexico. Cargo railroads cross all Mexican territory, from Chiapas in the southern border with Guatemala, to the northern states that border with the US. This is the most common transportation used by hopeful US immigrants, fleeing Central America from violence and other reasons, which lead them to seek refugee in the US. This train is known as "the beast", the steel cargo train that help migrants to reach the US border while dodging dangerous situations: kidnapping, robbers, drug dealers and the constant threat of falling and being run over.
Apaxco is located two hours north of Mexico City; it's the nearest point to the Capital City where "the beast" passes by. It's also where Magdala Project - a temporary shelter for migrants - has its operations centre.
The train known as "the beast" will carry them to the US border - if they are not kidnapped, robbed, assaulted by drug dealers, or harmed during the ride. 
It's a cold morning and the train is ready to leave heading north. Migrants hurry to get to the roof where they will travel for almost eight hours until the next stop, if they are not stopped by drug dealers. Some of the migrants ride in the first cars of the train and just a few ride in the very back; they say it's safer at the back.
But today luck is not on their side. The train starts to move and all of sudden, a small group realized that their car is not connected to the train, so they have lost their ride today.
Seven migrants descend from the train; tired, weary and disappointed because they will have to walk today.
They are hungry and with no strength to keep walking. Luckily they are at the train stop where Madgala Project has its shelter and operations center; a non-profit organization which assists migrants that pass by.  Staff from Magdala hurry to prepare breakfast and hot coffee; all with the support of World Vision staff who have come today and donated food, clothes and other provisions to relieve the migrants.
Once the breakfast is ready the relief group from World Vision and Magdala Project heads to the railroads where they find seven people: 2 men from Honduras, 3 men from El Salvador, one youth, and 2 from Guatemala.
They look tired, weary and again very hungry. Before World Vision, a medical van from "Doctors Without Borders" arrived and is checking their health and making sure that they are not ill or injured.
"Just one of them has callus on his feet and it's bleeding," says Hector Conde, Magdala Project Director, "so we are going to give him some medication, a pair of shoes and some socks. We cannot make them go back to their countries, so we have to help them as they pass by."
Coffee and a hot breakfast changes the mood of this group of men from Central America, including Chava, an 18 year old from El Salvador who travels with his cousin and uncle. 
"I am an orphan, so I have nobody in El Salvador," he says, as he drinks his coffee. "I have two brothers older than me and they are already in the US. Our mother paid a "pollero" [Pollero is a person that crosses immigrants to the US illegally, charging their families in the US up to $5,000 USD. The pollero does not guarantee the crossing. If Immigration Police appears the pollero disappears and abandons them] to cross them to the US side. My older brother is waiting for me, so once I arrive in the US, I'll look for him."
Chava left El Salvador four weeks ago. He used to work in a car repair shop, but he did not get any payment. "I was an apprentice, so I did not get any money for my job," he adds.
His uncle used to take care of him, but the bad economical situation and the lack of opportunities forced them to seek for a different option: walking from El Salvador, across Mexico, heading to the US . "I want to go there because I know I can get a good job there," says Chava.
They have been walking and riding on "the beast" for four weeks, still they are a thousand kilometers from the US border. "Thanks to God we have been fine; last week we were robbed in the way; they did not take anything from me because I do not have anything, but others lost everything," he adds.
But it's not just economics that has forced Chava, his cousin and uncle to leave.
It's the violence that has chased them away. "Maras (gangs) are very dangerous in El Salvador. The maras wanted to kill me because I did not want to join their gang. Four years ago they tried shooting me several times. I just ran and saved my life, but I was forced to leave my hometown and moved to a different community, in El Salvador, otherwise I'd be dead." adds Chava.
"So I arrived to another community, thinking it would be safe since the mara that was chasing me was not present there, but I encountered different mara, different gangs. They kill for a living, that's what they do; they do not respect anybody and tried to enroll everyone, specially youth," says Chava.
"Many youth are in the same situation, we all have to move from one community to another to be safe and not get killed."
Chava has been moving from one community to another seeking stability and a steady job, but since he only finished junior high school, he does not have many options, and as soon as he finds a job, the maras come after him, so he is forced to leave the community one more time. It's been four years fleeing from maras, seeking security. "Many youth are in the same situation, we all have to move from one community to another to be safe and not get killed." 
Chava is aware that he cannot go back to El Salvador. "It's not safe. If I go back, the maras will kill me. The government is not doing anything, neither the police, to diminish the violence that [forces us to ] flee," he adds.
This last time that the maras were after him, "I spoke with my uncle and we all decided to flee from El Salvador. I called my brother and said: wait for me, I am heading to the US," says Chava, as his uncle grabs his backpack carrying a bottle of water, cookies and a pair of extra socks. "We have to go now. It's time for us to keep moving," says Chava and grabs his back pack with the same supplies.
Before saying goodbye and heading to the tracks, he says to us, "I'll go back to El Salvador one day, when the government and the police are working to diminish violence - that's the day when I go back, but now I am heading to the US, I'll be safe there and will find a job."
Chava, his cousin and uncle start walking on the tracks heading north. They will walk for one day until they can catch the next train. "Do not take pictures of us, the maras could identify us and chase us, even in Mexico," ends Chava.
World Vision in coordination with Magdala Project distributed coffee and breakfast to Chava, his family and the other migrants. "That's the only we can do so far," says Hector, but World Vision is working on different options and emergency relief operations to help migrants, specially unaccompanied children or youth like Chava.
In El Salvador, World Vision works with communities and families to prevent all types of violence and to protect children as well. 
Due to security reasons names have been changed to protect the identity of the persons.