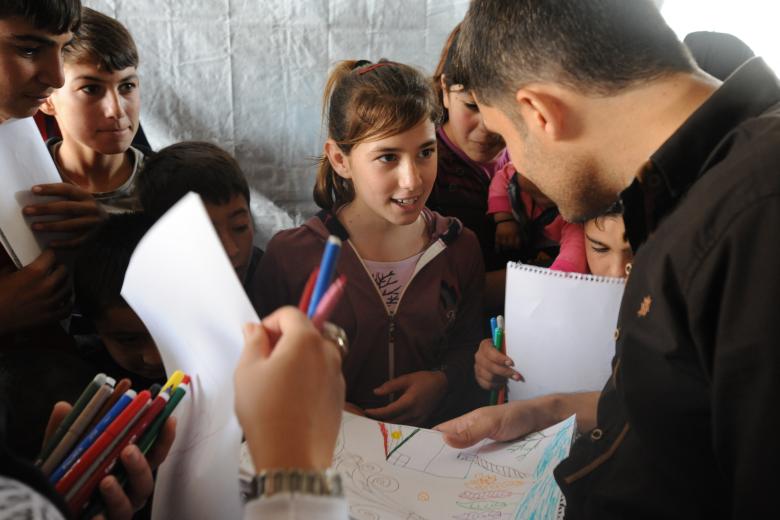 Dreams delayed: Iraqi children displaced by war
Tuesday, October 28, 2014
In a partially constructed commercial building strung with tarps, blankets, and clotheslines, two girls lean against a cold cement wall and speak of their past lives.  They have only completed fifth grade. But, educated by war, their eyes have seen far more than most preteens.
Only two months ago, Nadia, 12, and Aida, 11, were above-average students, eagerly learning, spending time with friends, playing or chatting about their favourite music. But, in August, their lives changed radically, when their families fled Nineva Province in Iraq after militants attacked their community, killing men and capturing women.  Most families escaped on foot with nothing more than the clothes they were wearing. 
Today, their families share an unfinished multi-story building with more than 30 other families.  There are at least 60 children living here, spread across three floors. Youngsters run up and down open cement stairwells, at times dangerously close to toppling from steep heights. Recently, one child broke his arm after falling. A piece of cardboard separates youngsters from an empty elevator shaft.  In Dahuk, alone, at least two children have fallen to their deaths.  There is only one latrine for all 30 families, located in the basement and no proper space to bathe.
Nadia's life in this confined cement shell bears no comparison to the one she lived in Nineva.
 "I miss school the most... School was the best part about life," says Nadia.
"I miss school the most," she says, without reservation. "School was the best part about life." The soft-spoken youth had plans to be a doctor. Her friend, Aida, hoped to be a teacher, but these dreams have been delayed.  
Clouded by the detritus of war, neither girl knows when she'll see a classroom again.  Last spring, they completed fifth grade together, but there are few educational options for many children now living in Dahuk.
The influx of more than 500,000 displaced persons has doubled the numbers of school-age children in this northern border province.  But with 500 schools occupied by the displaced, there are very few opportunities for the children, displaced or not, to study.
Despite the delay in her schooling, Nadia remains positive.  "My favourite classes are English and Arabic, " she says with a smile. "Studying languages can help us communicate with other people." Her best friend, Aida, agrees. "They can help us understand," she adds.
 "Studying languages can help us communicate with other people... They can help us understand," says Aida. 
When the two reference the future, they speak of a better, happier time when people will not hurt one another.
Only 40 kilometers away, the ebb and flow of battle continues.  But youth, like Nadia and Aida, still see ways to build bridges, if only through communication, language and education.  Their future careers may have been put on hold, but the dream of peace has not escaped them.
World Vision is providing winterization items to all families living in this informal settlement, as well as improving their water, sanitation, and hygiene.  Children in Emergencies initiatives are being explored with local authorities and in coordination with potential host community schools.