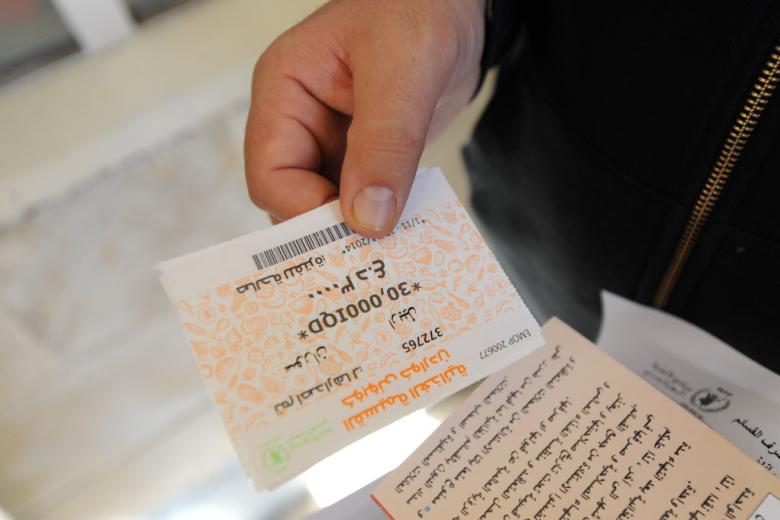 Food vouchers bring brief relief to displaced families in Iraq
Wednesday, November 26, 2014
For thousands of families who have fled ongoing conflict in Iraq, there is uncertainty in what the future will bring. Winter is approaching and families need appropriate clothing, medicine, and food for their children. 
Across Iraq, more than 1.9 million persons have been displaced by violence, almost half of them are in the Kurdish-controlled north. At least 2.8 million will need food assistance this winter, according to the United Nations. 
Helping address this, World Vision is distributing food vouchers to 19,000 families. Supported by the World Food Programme (WFP), vouchers will aid families in accessing nutritious foods according to their own preferences, while allowing them to prioritize other needs with the little savings or cash they may have.
A long line of men and women snakes around a church courtyard. They are among the displaced people registered to receive food vouchers at today's distribution. Over 500 people are sheltering in this community after fleeing violence in neighboring Ninevah province. 
As people move to the front of the line, they share identification cards with World Vision staff.  Names are validated and families receive their food vouchers, a $26 (USD) voucher for each person registered.
A soft-spoken man politely corrects staff when they offer him one too many vouchers. "I cannot take this. Please share it with someone who needs it," he says. 
The voucher, he explains, was mistakenly registered in the name of his sister, killed in an attack on their town last August. 
"It was the day before we fled... My sister had gone shopping in the market.  There was a rocket attack. She and two children were killed," Yusef says. 
"It was the day before we fled," says Yusef*, 32. "My sister had gone shopping in the market.  There was a rocket attack. She and two children were killed," he recalls.  
The following day, as militants entered the town, Yusef squeezed six relatives into his small car and they fled. Today, there are 20 extended family members living in a shelter behind this church. 
"We brought nothing, only our identification cards," he says. After reaching safety, they sold the car, as the family desperately needed money for medicine, food, and clothing. 
In Ninevah, Yusef owned a successful market, but opposition forces took his store and everything in it. He has lost his shop, his house and his sister. 
"I've never imagined anything like this in my life," says Ibrahim*, 75, Yusef's uncle. "We lost everything."
For 30 years, Ibrahim taught school.  He remembers each of his students.  "They would greet me in the market, kissing each of my cheeks. 'How are you professor?' they would ask."  He pauses, dabbing tears from his eyes with a handkerchief.  "But some of these boys, men now; they have become our killers." 
Since arriving in the Kurdish-controlled area, the family has found a renewed sense of gratitude. Like the other 500 displaced people sheltering here in this small town, they have relied upon the generosity of the church and the Muslim community around them, who often provide them with food and clothing.
"The Muslim Kurds here, all of them, have done a lot for us," Ibrahim says. "We will never forget the kindness of the people here.
World Vision's WFP-supported food voucher programme will reach at least 19,000 families, (115,800 individuals), over a three-month period. Help support World Vision's work here.  
*Names have been changed to protect the identity of persons.