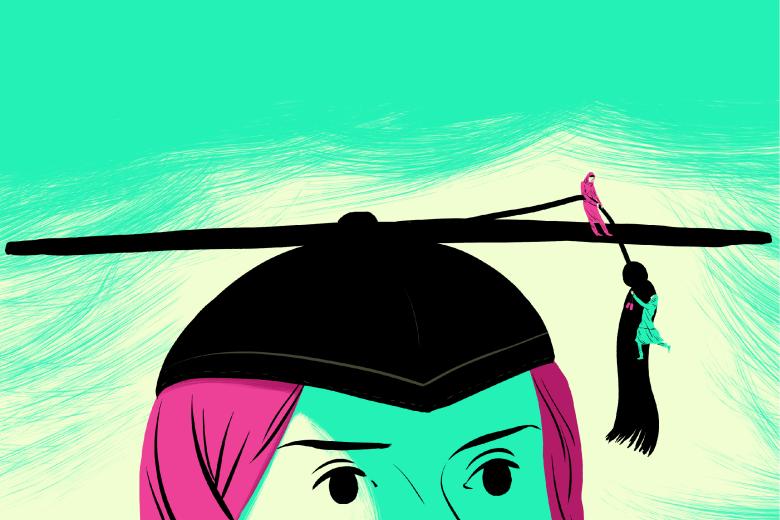 A divorced young mother's journey to freedom and success
Wednesday, June 29, 2022
Listen to the letter here
Dear World, 
This is not a love letter; this is my story. 
Today is a bittersweet day for me; it is my graduation. Finally, after four years, I am proudly carrying my degree into my own hands. I graduated top of my class, and I already have a job offer to start teaching English literature to middle schoolers. For you to understand why it's a bittersweet moment for me, I need to tell you my story from the very beginning! 
I was only 14 when I was plucked out of my family and school, and into my husband's house. It was such a horrible day! The decision really came out of nowhere, but similarly to many other girls, I had no say in it. In our community, we had to conform to local customs and cultural norms whereby the man would decide to get married and the woman was just expected to follow...  
My husband quickly became abusive. When I left my family's house, I didn't know how to cook or clean. Oh God, I burned so many meals, overboiled so many eggs, and undercooked so much meat back then! Of course, he would hit me every time I did not succeed in making a decent meal. Sometimes I would burn the meals on purpose... I mean, even if the meals were good, he would always find another reason to hit me anyway... it was my way of fighting back!  
My husband wanted a lot of boys running around the house, so we started trying right away. I had two miscarriages at first, both of them were boys... But then on our third try, I gave birth to the most beautiful girl in the whole world! We named her Noor, and she was the light of my life. Omar, my husband, pretended she didn't exist. He never even held her or bought her presents. He would just provide the basics, milk, and diapers. He saw her as a stranger as opposed to his own flesh and blood.  
On our fourth try, it seemed like Omar's wish would finally come true. I was eight months into the pregnancy and was carrying a healthy baby boy. Omar filled the house with toys, bought a new crib, and even didn't let me cook! To my surprise, he actually cooked and cleaned for us. He would ask me to sit and rest all day. To be honest, he was a better housewife than I ever was! 
Soon after, I woke up in the middle of the night in pain only to discover that I was bleeding. Omar rushed me to the hospital, and that's when we found out that I had lost the boy... After that, things escalated very quickly. While I was still in the hospital, Omar went to the court, divorced me, and asked his mom to pack up my clothes in a suitcase. He brought the divorce papers and my clothes to the hospital where I was still recovering. Omar was even quoted in the divorce papers saying to the judge "your honor, her womb is cursed". 
To make matters worse, my father was ashamed of himself and me. He would often sigh and say: 
"I cannot believe that I am the father of a divorcee."  
He wouldn't let me leave the house. He somehow extracted me from the real world and hid me away. After a while, he couldn't even look at me and sent me away to another city to live with my uncle. This devastating decision somehow turned into a blessing in disguise for me. My uncle was the sweetest man on the face of the earth! I went back to school, and he even supported me with my university fees. You see, my uncle had no children of his own, and his wife had passed away a long time ago... He took me in as the daughter he never had, and to be honest, he also ended up being the father I never had.   
As I graduate from university today, I only hope to reignite the fight for my future and the future of every girl who has been oppressed by cultural norms and customs that dictate our lives since childhood. Today, my fight begins to free my daughter from the claws of the male prison she calls her father, so that she does not have to go through the same experiences that I went through. Today my fight starts to break down the walls of stigma faced by divorced women in particular.  
Today, I finally graduate from university holding my head up high, I now have the tools to free myself and help others. I truly hope to support a new generation of women and girls who will build a better future for themselves. Today, I will start my fight to become a lighthouse in this dark land of ours. 
Yours truly,  
A former child bride who is now a teacher