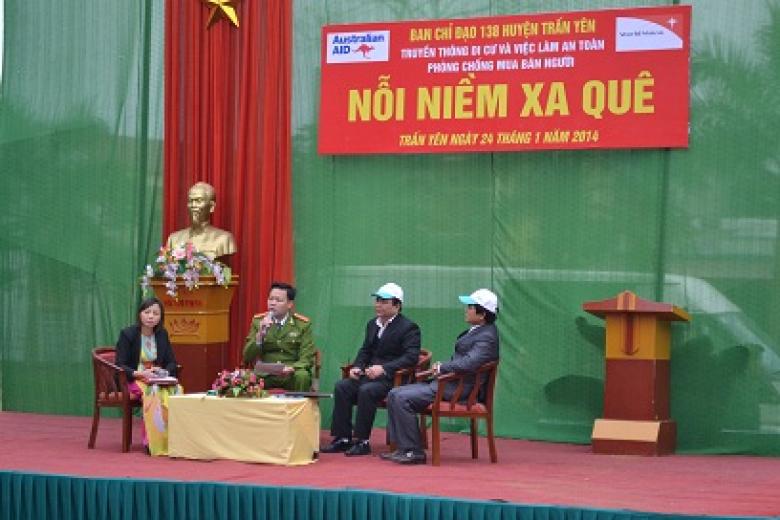 Forewarned is Forearmed
Saturday, December 13, 2014
Text by: Bui Thi Viet Ha, Vo Thi Ngoc Huong and Pham Thi Kieu Loan – ETIP Project Assistants

Rural residents migrating in search of work need to know the truth: the exact location where they will work; who to contact in case of an emergency; and the tricks often employed by human traffickers to lure people into their clutches.

These messages were delivered to target audiences as part of a recent communications campaign covering Tran Yen district in Yen Bai province, Huong Hoa district in Quang Tri province and Nong Son district in Quang Nam province.

Participating at the events were 1,800 children, people of working age, other community members and representatives of local authorities. The activities were organised by World Vision's End Trafficking in Persons Programme (ETIP) in cooperation with relevant local agencies.

"It feels good to be a part of this event and it will help me to speak out against human trafficking, which is starting to affect my community," said Vo Thanh Khiet from Lao Bao town in Huong Hoa district.

Held annually, the events focus on raising young people's awareness of the dangers of trafficking and how to avoid becoming a victim of the traffickers before they leave home to find work, especially in foreign countries. Last year, more than one thousand people attended the ETIP events.  

Official figures for 2013 revealed that 507 separate cases of human trafficking were reported during the year in Vietnam, which was 4 percent more than in 2012. These cases involved 982 victims being sold (an 11 percent increase over 2012) and 697 traffickers being investigated.

The statistics were released by the Standing Office of the Steering Committee on Crime and Drug Prevention and Control, which operates under the Ministry of Public Security.

The data also showed that an increasing number of cases ended up with victims being trafficked to China and that this country accounted for 70 percent of all known instances of the crime in Vietnam.

The traffickers often entice potential victims with offers of attractive jobs abroad. They then seize the victims' passports and other personal documents before forcing them to undertake arduous jobs or to be sex workers when they arrive in the foreign country.