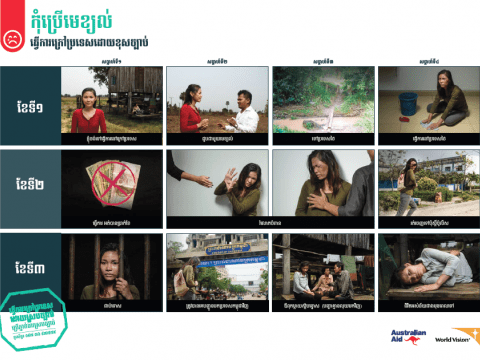 BCC Campaign Calendar: Cambodia
Wednesday, December 31, 2014
The Behaviour Change Communication (BCC) campaign in Cambodia will be underpinned by a call to action of "Migrate Safely, Use a Legal Agent." When thinking about migration, it is easy for rural Cambodian youth to be enticed by the promise of a great job in an exciting land, especially when it only takes a few days to get there and people don't even need paperwork. The "Migrate Safely" campaign concept focuses on the path and the result of using a bad broker compared to using a legal or good Agent. Throughout the campaign, audiences will see a transformation from the negative results of using an illegal broker to the positive outcomes of migrating safely with a legal agent.
The calendar is meant to be used in tandem with the Storyboard and Audio, as a one-hour interpersonal communication session with youth. This session can be facilitated multiple times with many different groups of youth.
The calendar is a key summary of the differences in benchmark events that happen when youth choose to migrate safely with a legal agent versus choosing to migrate with an illegal broker. The main objective of the calendar is to highlight that although a broker may be faster, the path is full of vulnerability. Conversely, although slower, using a legal Agent will lead to more money and legal protections that will help youth avoid exploitation and abuse.