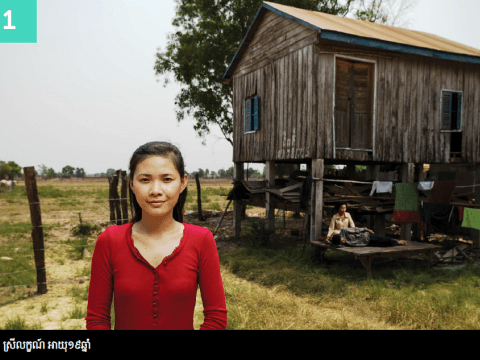 BCC Campaign Storyboard: Cambodia
Wednesday, December 31, 2014
The Behaviour Change Communication (BCC) campaign in Cambodia will be underpinned by a call to action of "Migrate Safely, Use a Legal Agent." When thinking about migration, it is easy for rural Cambodian youth to be enticed by the promise of a great job in an exciting land, especially when it only takes a few days to get there and people don't even need paperwork. The "Migrate Safely" campaign concept focuses on the path and the result of using a bad broker compared to using a legal or good Agent. Throughout the campaign, audiences will see a transformation from the negative results of using an illegal broker to the positive outcomes of migrating safely with a legal agent.
The storyboard and audio tool is meant to be used in tandem with the calendar, as a one-hour interpersonal communication session with youth. This session can be facilitated multiple times with many different groups of youth.
This tool is used to educate the target audiences on the dangers of using a broker, not the wrong migration process. The storyboard takes participants through the life of Srey Leak – a rural Cambodian youth interested in migrating. During the story she meets an illegal broker, migrates to Thailand and experiences hardships because she has no legal protection. By the end of the story, audiences will have an expectation of how life could have been different if Srey Leak had used a legal Agent.