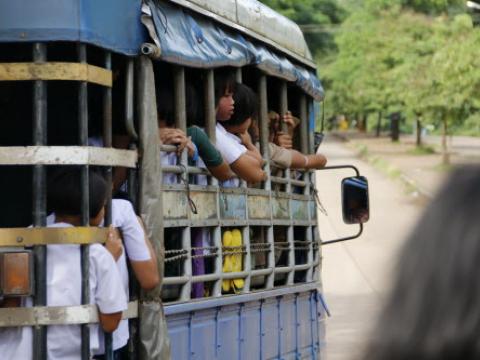 About Us
Human trafficking is a criminal offense in which victims are moved or placed into slavery or slavery-like situations through the use of force, threats, or deceit, and their human resources forcibly extracted and fundamental human rights denied.  For children, the element of force, threat, or deceit is not required for them to be considered victims of trafficking.  In recent years, there has been growing recognition that trafficking of persons for labor exploitation is claiming an even larger number of victims than sex trafficking.  It is estimated that for every trafficked person subjected to forced prostitution, nine people are forced to work.
Though trafficking is a documented problem in all parts of the world, the Greater Mekong Sub-region (GMS) (Cambodia, China, Laos, Myanmar, Thailand, and Vietnam) is recognised as a priority area in Asia, where high levels of undocumented migration between the GMS countries is believed to be linked to high incidence of trafficking.  
Victims from Asian nations have been trafficked for sex or labor purposes to other regions, and have been identified in the UK, Germany, USA, Australia, South Africa, and many others.  Within Asia itself, victims from the GMS have been identified in Japan, Malaysia, South Korea, and Taiwan, while sub-regions often have trafficking routes within themselves, India being a major destination country in South Asia, while Thailand is a major destination country in the GMS.
KEY ISSUES
There is a general uncertainty over the actual magnitude of the trafficking problem, in terms of number of victims trafficked per year.  There is still a lack of reliable statistics that can provide this information.
Trafficking in persons is very closely intertwined with undocumented migration and the abuses against such migrants.  This can potentially create conceptual confusion over the distinction between trafficking in person and exploitation of migrants in the workplace.
With the coming into force of new laws and policies specific to anti-trafficking, implementation by the state especially at the local level is still rather weak.
There needs to be greater recognition of the demand for cheap labor in the GMS and more government action to reduce demand for trafficked labor and to increase protection of migrant workers.
PROGRAMME GOAL
To contribute to the mitigation of the human trafficking problem in the Greater Mekong Sub-region whereby increasing numbers of people are safe from the trafficking threat, survivors are provided with appropriate protection services leading to integration back into society, and government policies provide greater protection to the vulnerable and to victims.
How the three pillars work together as a programme: