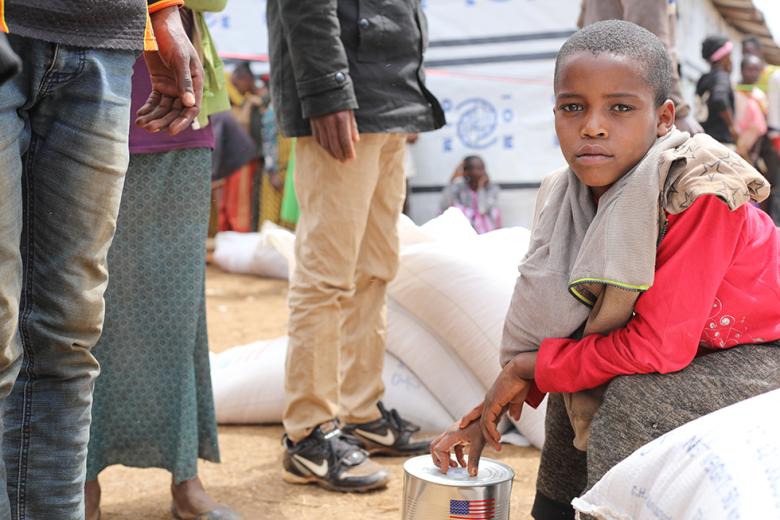 Ethiopia's latest humanitarian crisis, what you need to know
Wednesday, August 22, 2018
40-year-old Zenebech's pensive look cannot be missed. Her eyes are filled with worry and fear wondering whether they will ever return to their home. Together with her seven children, they are sheltering in a church compound in Kochere, Ethiopia's SNNP region. They fled when renewed fighting broke out in their hometown in June. 
Inter-communal violence in West Guji (in the Oromia region), Gedeo (in the SNNP region) and parts of the volatile Somali region has displaced over one million people since June. Although the security situation has improved in some of these areas, tensions among communities remain high.
Like many other displaced people, Zenebech and her children arrived at Kochere with virtually nothing but the clothes they wore. 
Inside the compound, families cram on cold concrete floors, braving the biting cold of the night. They keep themselves warm by lighting fires throughout the night, never mind how many trees are being cut down to sustain the firewood supply. 
 "There was no time to grab anything, the moment we heard the gunshots, we fled, leaving behind everything," Zenebech says. 
The thought of what she has left behind brings about painful memories. Back home, she farmed coffee, Ethiopia bananas and millet. Now, she has nothing to do but sit and wait, the kind of life most Internally Displaced People (IDPs) have resigned to. "It pains me, that I can't cultivate crops on my land and feed my children. Now I have to rely on food assistance because here I do not have a job," she says.
Many displaced people fled as their villages were being razed to the ground. Having lost their livelihoods, they can only rely on humanitarian assistance for survival as they shelter in schools, churches, bus stations and government's institutions.
Services like clean water and sanitation are in short supply, meaning that people cannot shower or wash their clothes, increasing the risk of diseases. 
"There is not enough food or clean water," Edward Brown, National Director of children's charity World Vision Ethiopia explains. "Families are unable to provide adequate nutrition for their children and we are concerned about the future of their health."
I met 10-year-old Bizuayehu wandering in the centre sheltering some 15,000 IDPs in the SNNP region. She carried her little brother, Dingate. At first I though the little one was just tired and was falling in and out of sleep but after a closer glance, 8-months-old Dingate was severely malnourished. 
He appeared visibly weak, his eyes dull, he did not cry. 
Without wasting time, we escorted the little girl to the only health facility in the compound, to get her brother treated.
During times of disasters, most children bear the brunt of looking after their younger siblings while their parents go fend for the family or carry out other duties.
Bizuayehu is one of these children. Her mother left her to take care of her ailing brother as she went to collect food at a World Vision distribution centre.
Aid agencies are working around the clock to provide food assistance, emergency shelter kits and nutrition services, but the crisis remains dire. 
World Vision has provided emergency food assistance donated by the US Government to displaced families, reaching a total of 640,000 people between July and August. We wish to reach around 1,050,000 people by September, but more funds are needed to scale up our response. 
In the meantime, many displaced people, particularly children, remain without food, water and shelter. They face malnutrition and the risk of contracting water, sanitation and hygiene related-diseases, including skin infections like scabies.
"The level of suffering endured by internally displaced people in southern Ethiopia is as bad as anything I've seen. Many have lost everything and are living in appalling conditions," says Brown.
"This is one of the worst humanitarian emergencies I have seen in nearly 20 years." 
The desire to go back home
September is just around the corner, and it is the coffee-harvesting season, like many IDPs, 60-year-old would wish to be back home by then in order to participate in the harvesting given this is their mainstay.  
A series of reconciliation meetings facilitated by the Government of Ethiopia have been held between Gedeo and West Guji leaders and the hope of returning home is high.
"Finding solutions for the resettlements will take time, and support in the areas of livelihoods and recovery will be needed to help returnees rebuild their livelihoods and assets," Moussa Sangara, the response director for World Vision in southern Ethiopia.
Without the help from the international community, we will only be able to reach a limited amount of people.
By Lucy Murunga
Communications Manager, Emergencies, World Vision East Africa.