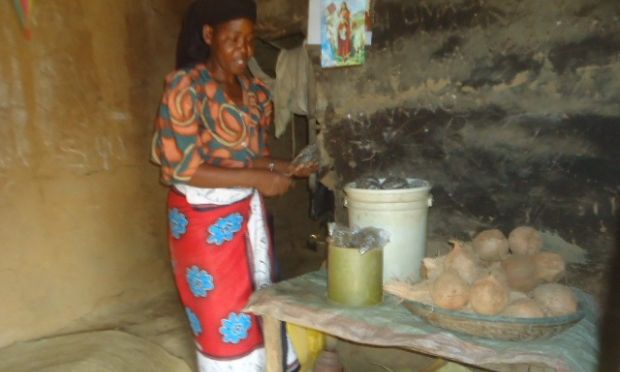 "This is a money minting industry," explains Grace from Dungicha, Kenya as she makes the dough for the Indian flatbread locally known as chapatis. Grace starts early to make the snacks that she will sell to workers at the Mshale Self Help Group project work sites during their breaks.
As a widow and mother of six, Grace's income was unstable prior to her enrolment in World Vision's Cash for Asset (CFA) programme. Through this programme, Grace not only benefitted from rainwater harvesting technologies and trainings on savings and lending, she also was trained on the Village Savings and Loans Associations (VSLA) model, which helped her to develop a thriving snack business. Bringing in an average of KSH 960 every week, this income allows her to provide for her family, while also saving KSH 250 weekly through the Mshale Self Help Group.
Grace developed her snack business while working at one of the project sites after she noticed that project beneficiaries needed snacks during their tea breaks. The business has been successful and Mshale Self Help Group has also provided loans to help her expand her business selling silver cyprinid and coconuts in the local market. This income has allowed Grace to pay for school fees for her children and special care for her physically handicapped daughter.
Grace is one of the thousands of members whose lives have been transformed by Village Savings and Loans Associations.
Why join a VSLA?
VSLAs are local financial platforms which are set up and managed by a group of village volunteers with the goal of graduating vulnerable, food insecure households towards a resilient and food secure future. VSLAs provide a range of financial services aimed at promoting the stability and diversification of local livelihoods. Services include savings, loans, micro-insurance against loss of crops and livestock, and relief funds for community members facing emergencies. VSLAs often offer additional opportunities such as the ability to collectively purchase agricultural inputs or storage facilities for crops.
VSLAs enable families to create productive assets as well as diversify livelihoods and income sources; they have shown to be an effective instrument to raise livelihood resilience among families. In the Kenyan counties of Taita Taveta, Kilifi and Makueni, families live predominantly on subsistence farming, livestock herding and small businesses. This makes villagers vulnerable to environmental shocks, such as droughts and fires, which can result in the loss of crops and livestock. Due to their remote location, access to social and financial services is generally low making the VSLA model an important support mechanism for these communities.
A savings meeting for Ngangani VSLA. The group began in December 2015 and has 21 members. As of December 2016 the VSLA has developed a loan fund of KSH 13,000.
Connecting CFAs and VSLAs in Kenya
While World Vision has used VSLAs for years, it integrated the VSLA model into CFA programme in January, 2013. VSLAs are supported under the Protracted Relief and Recovery Operations' Cash for Assets intervention, funded by the World Food Programme and the Government of Kenya, in partnership with World Vision Kenya. The model is aligned to the Government of Kenya's Social Protection Policy (2011), which focuses on the provision of social assistance mechanisms, such as food assistance, cash transfers, child protection services and responses to life-threatening emergencies.
Connecting the VSLA approach with CFA has ensured a mutual reinforcement of both humanitarian and social protection objectives. Since adopting the model, World Vision has seen incredible results in the communities where the CFA and VSLA programmes have been implemented. This revitalisation helped to grow the CFA group portfolio total savings from KSH 214,550 to KSH 6.4 million and membership from 670 to 2,554 members from May, 2015 to December, 2016, as documented by the Savings Group Management Information System – a worldwide reporting system that enables savings group implementers to monitor and assess the performance of groups and projects.
These groups are healthy and growing: the CFA VSLAs have an average 89.5 percent attendance rate and a 4.1 percent membership growth rate. Furthermore, of the 2,554 members, 83.6 per cent of them are women like Grace.
Building long-term food security and resilience
Benefits VSLA members experience go beyond increased savings and access to loans; they often include increased security, welfare and access to essential social services. Thanks to the participation in the broader CFA, members are linked to more stable local value chains and markets for their products.
World Vision Kenya has found VSLAs to be a powerful tool in improving savings culture, providing small scale loans and informal insurance systems at a local level. Savings groups have both economic impacts, as members are more resilient to cope with emergencies and economic shocks, as well as social empowerment, as group solidarity builds social capital for longer-lasting empowerment. World Vision hopes VSLAs and CFA will continue to create positive lasting change for thousands of families, just like they have for Grace and her family.
To learn more about how World Vision is work leveraging cash programming to build longer-term food security and resilience in Kenya please read the full case study.