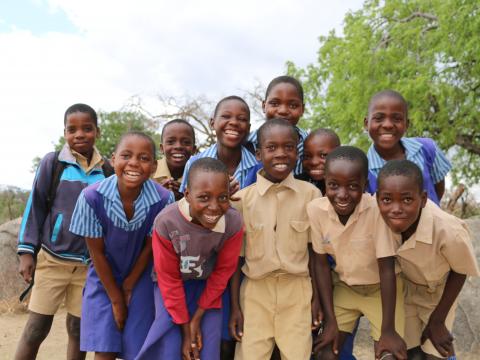 ENSURE Zimbabwe
The five-year Enhancing Nutrition, Stepping Up Resilience and Enterprise (ENSURE) program is designed to improve the nutrition of women of reproductive age and children under the age of five, increase and improve agricultural production and marketing, and increase communities' resilience and response to disasters and shocks.
World Vision Zimbabwe is implementing ENSURE is in partnership with Care, SNV and Safire and funded by USAID's Food for Peace program.
Over 215,000 vulnerable Zimbabweans will be positively impacted through ENSURE by 2018!
Here are the stories of the Chamazhika and Mutero families, who explain how ENSURE has helped them mitigate the effects of El Niño thanks to the support of World Vision, USAID and partners.
Strategic Objective 1: Nutrition
A women and her daughter participate in a care group in Buhera
In the area of nutrition, the program will impact over 150,000 women of reproductive age and children under the age of five through targeted supplementary food rations. Furthermore, a robust health and nutrition training package will be delivered via the internationally-acclaimed Care Group method, which supports good nutrition behaviours. (Read a story of impact on Care Groups HERE). 
Strategic Objective 2: Increased income
A women from the Chisumbanje Producer Group in Chipinge and an ENSURE Agriculture Officer proudly show their chicken coop that is improving the poultry supply chain
ENSURE is building the capacity of farmer field schools, producer associations, agro-dealers and many others engaged in key agricultural value chains such as groundnuts, small livestock and horticultural crops. In addition, over 17,000 people will be trained to save money in Village Savings and Loan Associations leading to asset accumulation that is leveraged to produce more household income. These activities will support over 20,000 farmers to produce crops and raise livestock in greater quality and quantity, and ultimately enhance household economy when these commodities are sold for profit.
Strategic Objective 3: Community resilience
Women in Chidzadza, proudly display their completed weir and irrigation scheme that will enhance crop production
ENSURE trains and coaches hundreds of communities to increase their absorptive and adaptive capacities in the face of natural and other disasters that cause setbacks in a community's food security. Furthermore, ENSURE helps communities to improve their resilience capacity through a Food for Asset programming, where communities construct dams, irrigation schemes, wells and nutrition gardens. Asset management committees are also formed to train communities to manage their community assets and foster sustainability of the developmental gains. By the end of the program, more than 7,000 workers and their families will directly increase their household resilience as a result of these activities.
Gender and environmental management
The program utilises two important cross-cutting objectives to increase impact and improve sustainability, namely: 1) working to build gender equity and 2) acting to improve environmental management. All of the activities in nutrition, agriculture and community resilience will be informed and influenced by these two cross-cutting themes.
Select FY16 results
Figure 1: Through ENSURE programming in 2016, all target beneficiary groups—from pregnant and lactating women to children under 23 months—significantly enhanced the quality of their food consumption, exceeding the annual targets.
Figure 2: Through ENSURE programming in 2016, thousands of farmers and Village Savings and Loan clients received in-depth training in relevant topics; in all instances annual targets were exceeded.
Figure 3: Through ENSURE programming in 2016, producer groups enhanced community assets (e.g. dams, irrigation schemes, wells and gardens) and value chains in significant ways; outcomes far exceeded annual targets.  
Figure 4: Through ENSURE programming in 2016, community members were sensitised on key topics, including food shortage, refuge disposal and early warnings; annual targets were achieved or exceeded in all cases. 
To learn more, please read the brochure HERE or contact Dave Evans (david_evans@wvi.org), the Chief of Party for ENSURE.

This project is made possible by the generous support of the American people through the United States Agency for International Development (USAID). The contents of this webpage are the responsibility of World Vision, Inc. and do not necessarily reflect the views of USAID or the United States Government.