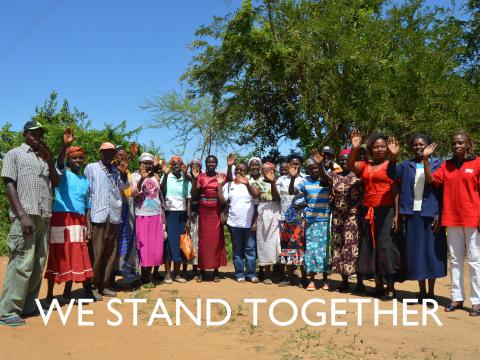 Our Partners
First and foremost, World Vision collaborates with the families and communities it serves. Local government and religious leaders are also key to ensuring effective, relevant and sensitive food assistance programmes. Finally, World Vision partners with and is thankful for a diverse cadre of donors. Learn more below:
World Food Programme
World Vision is the largest NGO partner of the United Nations World Food Programme (WFP), and has been for the better part of a decade. In 2016, WFP and World Vision partnered to distribute 211,516 MT of food across 29 countries; significant food assistance was also provided via cash and vouchers.
US Agency International Development
World Vision partners with USAID in Emergency, Development and Nutritional Support Programs in Afghanistan, Angola, Chad, Democratic Republic of the Congo, Ethiopia, Haiti, Honduras, Malawi, Mauritania, Mozambique, Niger, Rwanda, Sierra Leone, Somalia, Sri Lanka, Uganda, Zambia and Zimbabwe. With a dedicated team in Washington D.C, World Vision US collaborates closely with USAID on food assistance. 
US Department of Agriculture
In Afghanistan, Mozambique, and Zambia, World Vision has partnered with USDA on the McGovern-Dole Food for Education Program and Local and Regional Procurement Project for distribution to hungry men, women and children. World Vision US in Washington D.C. supports engagement with USDA.
Global Affairs Canada
Global Affairs Canada, formerly the Department of Foreign Affairs, Trade and Development, continues to support World Vision in responding to emergencies globally including with food and cash assistance. GAC was also an early supporter of the Last Mile Mobile Solutions, a technology for improved transparency and effectiveness.
UK Department for International Development
World Vision recently partnered with the UK's Department for International Development to deliver food assistance in the form of cash transfers to Syrian refugees and those facing drought in Mozambique.
European Commission Humanitarian Aid and Civil Protection
ECHO and World Vision have been collaborating to meet emergency needs in Ethiopia and Zimbabwe by delivering food assistance via cash transfers. World Vision's EU office in Brussels helps coordinate engagement with ECHO to increase collaboration on food assistance.