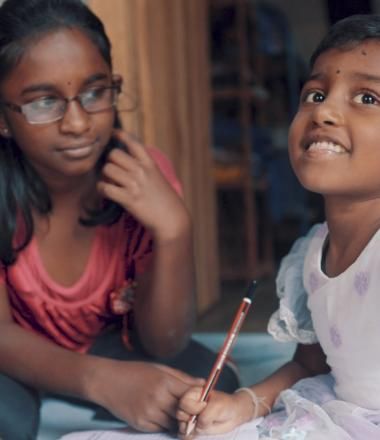 Gifting Hope to the children with cerebral palsy
Cerebral Palsy is one of the most common childhood disabilities. Gift Hope campaign is especially focused on children with cerebral palsy and their families. 
It affects the part of the brain that directs muscle movement. In some babies, this part hasn't developed normally while they are still growing in the womb. In others, it is because of an injury to the brain tissues either before, during, or after birth. As a result, the nerve signals between the brain and the muscles are disrupted, leading to problems with movement, posture and coordination as the child grows up. 
While some are severely affected, others have only minor disruption, depending on which parts of the brain are not functioning properly.
In the developed world, we can find six cerebral palsy cases per 1000 births. In Sri Lanka it is around 12 to 15 such cases per 1000 births. Many parents in the rural communities have very little awareness on this condition.
Currently there are around 40,000 people with cerebral palsy in Sri Lanka. Nuwara Eliya District has the highest number of children with cerebral palsy and the majority are from the estate communities.
Gift Hope Campaign aims to create awareness on cerebral palsy among the public in order to help sensitize and build a supportive and an inclusive society where these children can live to their full potential. 
It further aims to create awareness among parents and caregivers of the services available to help care for their child. 
Gift Hope will also fundraise to support their most crucial needs of accessibility and medical care.