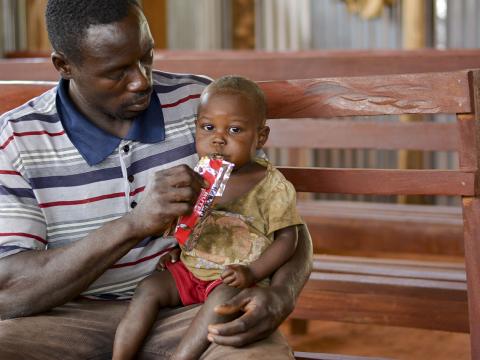 Pray to End Famine
Join churches worldwide responding to the worse hunger crisis of our time.
Last year, World Vision joined more than 120 faith-based organisations in the Global Day of Prayer to End Famine. The Day of Prayer played a crucial role in raising awareness and inspiring action around the world. Through humanitarian efforts, we have seen enormous obstacles beaten for many people facing hunger. Unfortunatley, in 2018, the risk of famine remains, and has even increased, having the potential to spread to many other areas.
More people face famine today than any time in modern history. 
This crisis is not hitting the news the way it needs to be and the world isn't responding quickly enough. The Global Day of Prayer to End Famine is an opportunity for faith based communitys all over the world to bring light to the hunger crisis and the impact it has on the most vulnerable children.
Currently in Somalia, South Sudan, Nigeria and Yemen, 20 million people are living on the brink of famine. In addition to these four countries, millions of people in the Democratic Republic of the Congo, Uganda, Ethiopia, Syria and Bangladesh have been forced from their homes by conflict, putting them at even greater risk of food insecurity and hunger.
Now more than ever, the Church needs to come together to pray and respond to those in need.
In Matthew 25, Jesus says, "For I was hungry and you gave me something to eat, I was thirsty and you gave me something to drink, I was a stranger and you invited me in." For people of faith, this is our moral imperative: Feed the vulnerable. Build peace.
On Sunday, 10 June, may our millions of prayers join the millions of our sisters and brothers as they cry to the Lord to be delivered from their distress. Together we can light a way for sustained peace and abundance.
Join us
Pray and encourage others to pray. Download our free resources to guide your church, family or community in prayer.
Give and encourage others to give. Find opportunities to support World Vision—we are already on the ground working to bring life-saving food, clean water and health interventions.
Advocate and encourage others to advocate. Help create awareness among media, governments and wider society in order to encourage immediate action.
Click below to download resources for the Global Day of Prayer to End Famine