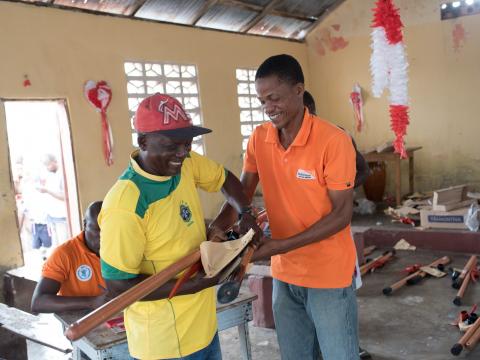 About Us
World Vision first began working in Haiti in 1959 through the sponsorship of 27 children at the Ebenezer Orphanage in Port-au-Prince. Thereafter, the organization founded a national office in Haiti in 1978. Since establishing a presence in Haiti, World Vision has supported long-term development programs focused on child well-being and community development. The faith-based non-governmental organization has also provided relief supplies and assisted with recovery from major natural disasters that have ravaged the country, including numerous hurricanes, flash floods, and the devastating January, 12, 2010 earthquake.
In the initial phase of the emergency response, World Vision strived to help affected families meet immediate needs by providing emergency food assistance to more than 2.5 million parents and children, emergency shelter for more than 200,000 homeless, and life-saving medical supplies to 412,500 ill and injured individuals. Additionally, the organization provided vital personal items and critical services such as water and sanitation, child protection, and education.  
As World Vision shifted its response efforts towards sustainable rebuilding, it moved over 25,500 people out of tents and into safer, sturdier accommodations, constructed 20 schools—including a 15-classroom school in the transitional community of Corail, benefiting 1,200 students—and helped 15,000 people improve their food security while rebuilding communities through cash-for-work and food-for-work programs.
To respond to other crises that impacted earthquake survivors, World Vision assisted over 15,500 cholera patients, reached more than 300,000 individuals with proactive cholera prevention activities, and provided emergency relief items to a total of 100,000 people who were impacted by Tropical Storm Isaac and Hurricane Sandy.
In 2016 after Hurricane Matthew made landfall in Haiti, World Vision supported approximately 50,000 families (246,134 people) in the departments of South, Nippes and West (Port-au-Prince and the island of La Gonâve) where the damage caused by the hurricane was among the most significant.
In fact, the organization had begun preparing for the fallout of Hurricane Matthew long before the storm hit by pre-positioning equipment. This equipment enabled World Vision to respond to the needs of those affected within hours of the disaster. 
Later on, World Vision focused on the economic recovery of communities through the distribution of seeds, agricultural tools and livestock. The organization also rehabilitated health centers and built school infrastructure and water points on the island of La Gonâve. 
Even after more than 40 years of working alongside impoverished communities in Haiti, World Vision's commitment to the people of Haiti remains as strong as ever and this work will continue until Haiti's children and families are able to flourish on their own. 
While World Vision development efforts in Haiti have historically focused on rural communities, Haiti's recovery requires an ongoing commitment to its urban population as well. So, World Vision will leverage what it has learned through urban disaster relief efforts to support long-term development initiatives in and around Port-au-Prince as well as in rural areas where World Vision is working with communities and local organizations to bring about long lasting change.
The organization aspires to build back stronger and more resilient by prioritizing child well-being with a focus on sustainable livelihoods for families, education, health, and child protection and participation. World Vision is committed to all of these vital efforts, even as it narrows its response work to focus on activities with the greatest potential to improve child well-being for the long term.
Currently, World Vision Haiti works in three regions of the country. Through 19 Development Programs, World Vision Haiti directly serves more than 190,000 people and impacts 60,000 children through its child sponsorship program, grants and private funding.