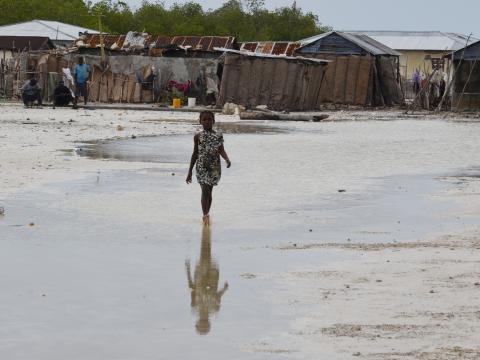 Bodain, Haiti: Life among rubble
Friday, October 14, 2016
"My dream was to build a home, but it was destroyed by the hurricane".
These were the shattered hopes of Marie, the young mother of Lanchise, (4), Narcise (14) and an 18 month old toddler, as she describes the devastating aftermath of Matthew.
Bodain, a small fishermen and agriculture village located in La Gonave island was isolated and almost reduced to rubble due to the slamming rain and winds, as confirmed by World Vision emergency teams.
Marie and her children livelihood depended on the sale of salt obtained in this impoverished community, which produces maize, cantaloupes and peanuts. "Everything is flooded, I've lost, the salt sacks I sell for a living". "I am worried about my economy and my children". In Bodain crops were destroyed and there are no seeds to plant.
Marie's sadness mirrors the faith of hundreds of people who lost it all. In this village, 35 houses were completely wrecked, 48 were severely damaged and 70 are still flooded. These fragile households were the home to 100 children sponsored by World Vision Haiti, and whose vulnerable condition are a main concern to the organization.
Providing clean water, food, a safe environment and shelter are the primary needs of this community forced to relocate at the home of friends and a shelter where 144 people remain.
Sterling (13), Cindia (8), and her little brother Widmyson (2), spend their hours in the shelter along their mom, Ivone, a single mother that fled her home to save her children from the rain and winds.
"I heard the rain and wind blowing so badly. I took my children to the shelter and then I tried to save some of our belongings out of the house, then it collapsed. I really don't know what to do", Ivone explained.
You know what to do. Donate through World Vision to change the history of Marie, Ivone and their children.