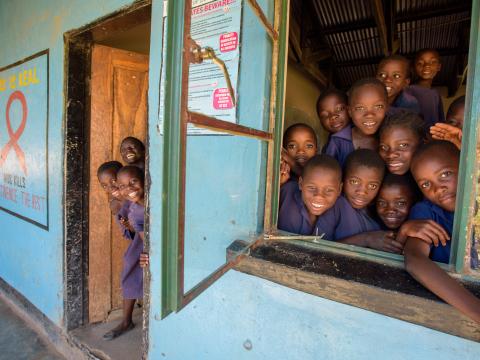 HIV and AIDS Programmes
HIV and AIDS
AIDS is now the second leading cause of death among adolescents globally. And, in 2014, only 32% of children living with HIV were on treatment. In getting to zero for children, global organizations are working together to end the AIDS epidemic, as part of the Sustainable Development goals, by the year 2030. 
World Vision's Focus: Getting to Zero for Children
World Vision's HIV Strategy builds on World Vision's core child-focused and community-based integrated development approach and our 15 years of HIV and AIDS programming experience. Our vision is to contribute to the Sustainable Development Goals and to eliminate HIV and AIDS as a public health threat by 2030, with a special focus on children, adolescents and the most vulnerable. 
A veteran in the fight against AIDS, World Vision invests an average $45 million annually in HIV and AIDS programmes in 35 countries, working in partnership with governments, local and global organisations, donors and the private sector in strengthening families, communities and national health systems to end AIDS for good.
Objective 1: Eliminate new HIV infections in children and keep their mothers alive
Prevention of mother to child transmission(PMTCT) includes the concept of combining prevention and treatment for both mother and child, and incorporates improving reproductive health, antenatal care, safe delivery, and new-born and child health in a continuum of care. WV's
community based PMTCT interventions
help to close the gaps that cause mothers and infants to be lost to health services and employ a holistic approach that includes:
mobilising community institutions, traditional and faith leaders for a supportive environment; 
home-based counselling of pregnant women, male partners and families by trained community health workers to promote HIV screening, antenatal care, safe delivery and breastfeeding;
local and national advocacy and system strengthening to ensure women living with HIV have access to comprehensive PMTCT services and antiretroviral therapy (ART) for themselves in a stigma free environment;

continued community support for mothers, children and families. 
Programme Snapshot

Uganda-ttC: Integrating HIV content into the timed and targeting counseling (ttC) material, village health team members are able to promote community based care and recommend behaviours that will result in effective community-based prevention of HIV transmission from mother to child (c-PMTCT). 
Uganda-Care, Support and Treatment Project (CVA): Due to the CVA programme, pregnant and young mothers are now receiving the attention that they deserve and access to good services at the community health facilities. 
Objective 2: Ensure children infected and affected by HIV survive and thrive
Recognizing that children orphaned by HIV and those living with HIV and with HIV-positive caregivers face substantial increased risks compared to their peers, World Vision makes focused efforts to reach them with integrated programming. Our programmes strengthen the capacity of families caring for OVC through family-centred counselling and support and strengthening community based responses to ensure that vulnerable children are tested and enrolled in HIV treatment, have access to essential health and social services, attend school, are protected from harm and abuse and are empowered with skills to support a sustainable livelihood.
Programme Snapshot:
Haiti-(General/OVC): This programme has trained staff to better understand how to work with those who are affected by HIV and AIDS and how to best work with individuals, regardless of their status. 
Objective 3: Adolescents and key populations access combination prevention and care
AIDS is now the leading cause of death among adolescents in Africa. A majority of adolescent girls lack knowledge of how to protect themselves from HIV and also lack access to critical health services including ART. In addition, nearly half of youth and adults infected with HIV globally are associated with key populations who experience substantial rights violations and barriers to accessing services.
This is why World Vision's HIV and AIDS programmes focus on adolescents, especially young women, and reach out to the most vulnerable and at-risk populations with specially tailored approaches. Programmes for adolescents include strengthening family support and parent-child communication, life-skills in and out of schools, and socio-economic support to help adolescents, especially girls, to stay in school. At risk groups are aided through strengthened linkages to quality HIV prevention services, commodities, support and treatment in a stigma-free setting.
Programme Snapshot:
Lesotho-Adolescent/ART Adherence: Support group members ensure family members,whose results are HIV positive, that treatment is an essential part to learning how to live a healthy life as HIV+
Objective 4: Ending stigma and discrimination
HIV-related stigma and discrimination persist as major obstacles to an effective HIV response at all levels. These barriers may derive from deeply set cultural and religious views of sin, gender roles, or the causes and means of preventing illness. As a faith-based organisation, World Vision works together with faith leaders and other custodians of culture to transform deeply held values from the inside out, confronting persistent myths, unsound ideologies and harmful beliefs, and upholding human rights.
Programme Snapshot:
Honduras-CoH: Channels of Hope (CoH) is a key intervention addressing HIV and AIDS in Honduras. Training religious leaders and youth leaders throughout the community has proven to be an effective method to impact the greater community.
Zimbabwe-CoH/IGATE: The IGATE Club gives young girls the opportunity to focus on their education and avoid early teenage pregnancy. Through the club, CoH helped to empower the girls and boost their self-confidence. 
Our strategies must reach the most vulnerable to ensure that no one is left behind. World Vision is joining this fast track to end AIDS with a revised HIV and AIDS Vision 2020 Strategy with four strategic objectives that will put greater focus on the involvement and needs of World Vision's priority beneficiaries - the most vulnerable mothers, children, adolescents and key populations – and on the locations and populations with the highest HIV burden, while addressing social and legal barriers and championing human rights and gender equality. The revised strategy will focus on interventions that  hasten access to prevention, care and treatment to ensure that children and adolescents infected and affected by HIV and AIDS will survive and thrive.
Programme Snapshot: 
Zimbabwe-Key Population (Sex Workers): Sex workers in Zimbabwe are often discriminated and unable to seek appropriate treatment for HIV. Peer support groups have been created to assist sex workers in a holistic way. BCFs use dignity and respect in all interactions with the workers treating them as mothers and women.
BiH-Most Vulnerable population(including Roma minority): Since 2011, World Vision and Roma community leaders have established three HIV Information Centres which provides education about HIV and AIDS prevention offered in selected Roma communities. 
India-TB/HIV Co-infection Management: TB/HIV collaborate programmes were established in communities most vulnerable, giving community members the opportunity to utilize current services. 
Southern Caucasus and Russian Federation-Key Populations(Migrants): The project was initiated in response to the alarming situation of high migration rates contributing to the spread of HIV and AIDS in the Southern Caucasus. The project aims at strengthening HIV/AIDS services, especially to migrant workers.

World Vision Fast Facts:
World Vision implemented HIV and AIDS programming in 35 countries in 2015.

20 countries implement life skills programmes for children and youth

18 countries provide Care and support of orphans and vulnerable children 

Over 292,000 individuals have been reached through community outreach with HIV prevention interventions.
Over 65,000 adults and children have received HIV care and/or support including OVC
The number of adults and children receiving HIV treatment is 14540
World Vision HIV and AIDS Programme Approaches:
Channels of Hope: Local faith leaders and their congregations work toward breaking down the stigma surrounding HIV and AIDS and focus on the prevention of HIV with a strong focus on elimination of vertical transmission while increasing care and advocacy for people who are living with or affected by HIV and AIDS
Community Prevention of Mother to Child Transmission of HIV (cPMTCT): Community based interventions are designed to provide community services, at the primary health care (PCH) level, to eliminate and prevent mother-child transmission of HIV
Community Care Coalitions and Community Child Coalitions (CCC): Originally part of World Vision's Hope Initiative, the CCC project model seeks to strengthen and ensure community-led care and support for orphans and vulnerable children 
Citizen Voice and Action (CVA) for HIV: CVA mobilises and equips communities to hold their own governments accountable for the promises they make.
Adolescents 
Integration with TTC: Time and targeted counseling takes place in the homes of communities as mothers and fathers learn about the best health approaches for their children and their families
Vulnerable Child Advocacy (VCA): VCA was developed in 20 African countries to advocate for the rights of OVCs. This model is now being utilized globally in many World Vision programs. The goal is to expand and strengthencivil society participation at community, national and international levels in developing and implementing policies and programs that support the well-being of children
Advocacy Networks and Engagements
World Vision lobbies directly and in coalitions for three issues:
greater prominence to be given to all aspects of the prevention, treatment care and support for children and adolescents both living with and affected by HIV and AIDS
strong language on community engagement
greater prominence for the role of FBOs
With strong commitments to reach zero new infections in children by 2020, we will address testing and treatment of children and the greater role for community-based service delivery in efforts to increase from 5% to 30% as part of the path towards eliminating AIDS by the year 2030. There is a  specific commitment that UNAIDS will deepen its partnerships with FBOs. The main partnerships have included the following organisations, colations and networks:
Prioritising children in the AIDS response: Key partners are the Coalition for Children Affected by AIDS

(

The Coalition

), the Regional InterAgency Task Team for Children Affected by AIDS (RIATT), the Ecumenical Advocacy Alliance (EAA), UNAIDS Advocacy Group, and the Civil Society Advocacy Group


Community Engagement: Key Partners are the Inter Agency Task Team on the Prevention and Treatment of HIV Infection in Pregnant Mother, Women and Children (PMTCT-IATT) and especially the Community Engagement Working Group (CEWG). key members in the CEWG are UNICEF and GNP+


Care and support for children: The Inter Agency Task Team on HIV Social Protection, Care & Support, The Coalition for Children Affected by AIDS, RIATT, Help Age International, the International AIDS Alliance


Access to Paediatric Treatment: EAA and Paediatric Treatment Group (Geneva)
World Vision HIV and AIDS Contacts:
For more information or general questions about HIV&Infectious Diseases, please contact:
Dr. Adugna Kebede
World Vision International Technical Director for HIV and TB
adugna_kebede@wvi.org