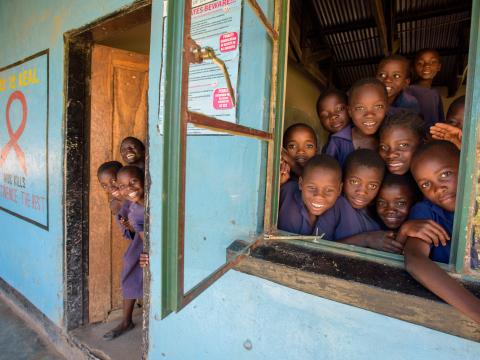 HIV and AIDS Programmes
The HIV and AIDS pandemic has devastated families worldwide, leaving children without the essential care and support they need to survive, grow, and thrive. As of 2020, about 15.4 million children under age 18 have lost one or both parents to AIDS-related causes. In 2020, around 680,000 people died from AIDS-related illnesses worldwide, a decrease of 64% since 2004 and 47% since 2010, but this is still far too many, with 310 children and adolescents dying from AIDS-related causes every day.
There is no cure for HIV infection. However, with increasing access to effective HIV prevention, diagnosis, treatment, and care, including opportunistic infections, HIV infection has become a manageable chronic health condition, enabling people living with HIV to lead long and healthy lives. About 38 million people around the world were living with HIV in 2020, and 1.7 million people contracted the infection the same year.
COVID-19 and HIV
The COVID-19 pandemic has made the situation worse, with people living with HIV having double the risk of dying from COVID-19 compared to the general population. In 2020, testing for HIV/AIDS fell by over 40% in Africa and Asia due to COVID-19.
Adolescents and HIV
Adolescents make up around 10% of new HIV infections in adults, with three quarters among adolescent girls. Additionally, while new infections may have fallen in many of the most severely affected countries, recent testing coverage remains low suggesting that many adolescents and young people living with HIV may not know their status. Adolescents living with HIV have worse access to antiretroviral treatment, adherence to treatment, retention in care and viral suppression. A key factor contributing to these is limited provision of adolescent-friendly services including psychosocial interventions and support. 
AIDS is the eighth leading cause of death among adolescents globally, and the fourth leading cause of all adolescent deaths in African lower- and middle income countries (WHO Global Health Estimates, 2016). In addition, 47% of children living with HIV don't have access to HIV treatment. In getting to zero for children, global organizations are working together to end the AIDS epidemic, as part of the Sustainable Development goals, by the year 2030. 
A majority of adolescent girls lack knowledge of how to protect themselves from HIV and also lack access to critical health services including ART. In addition, nearly half of youth and adults infected with HIV globally are associated with key populations who experience substantial rights violations and barriers to accessing services.
Gender and HIV
HIV/AIDS is a gender issue. Women and girls accounted for 50% of all new HIV infections in 2020, and 63% of all new HIV infections in sub-Saharan Africa in 2020. Every week, around 5000 young women aged 15 to 24 years become infected with HIV. In sub-Saharan Africa, six in seven new HIV infections among adolescents aged 15–19 years are among girls. Young women aged 15–24 years are twice as likely to be living with HIV than men. 
World Vision's Focus: Getting to Zero for Children 
World Vision's HIV Strategy builds on World Vision's core child-focused and community-based integrated development approach and our 20 years of HIV and AIDS programming experience. Our vision is to contribute to the Sustainable Development Goals and to eliminate HIV and AIDS as a public health threat by 2030, with a special focus on children, adolescents and the most vulnerable. 
A veteran in the fight against AIDS, World Vision works in partnership with governments, local and global organisations, donors and the private sector in strengthening families, communities and national health systems to end AIDS for good.
Objective 1: Eliminate new HIV infections in children and keep their mothers alive
World Vision's community-based prevention of mother to child transmission (PMTCT) interventions help to close the gaps that cause mothers and infants to be lost to health services and employ a holistic approach.
Objective 2: Ensure children infected and affected by HIV survive and thrive
Our programmes strengthen the capacity of families caring for orphans and vulnerable children (OVC) through family-centred counselling and support and strengthening community-based responses to ensure that vulnerable children are tested and enrolled in HIV treatment, have access to essential health and social services, attend school, are protected from harm and abuse and are empowered with skills to support a sustainable livelihood.
Objective 3: Adolescents and key populations access combination prevention and care
World Vision's HIV and AIDS programmes focus on adolescents, especially young women, and reach out to the most vulnerable and at-risk populations with specially tailored approaches. At-risk groups are aided through strengthened linkages to quality HIV prevention services, commodities, support and treatment in a stigma-free setting.
Objective 4: Ending stigma and discrimination
HIV-related stigma and discrimination persist as major obstacles to an effective HIV response at all levels. As a faith-based organisation (FBO), World Vision works together with faith leaders and other custodians of culture to transform deeply held values from the inside out, confronting persistent myths, unsound ideologies and harmful beliefs, and upholding human rights.
World Vision HIV and AIDS Programme Approaches
Channels of Hope: Local faith leaders and their congregations work toward breaking down the stigma surrounding HIV and AIDS and focus on the prevention of HIV with a strong focus on elimination of vertical transmission while increasing care and advocacy for people who are living with or affected by HIV and AIDS. READ Roseline's story. 
Community Prevention of Mother to Child Transmission of HIV (cPMTCT): Community based interventions are designed to provide community services, at the primary health care level, to eliminate and prevent mother-child transmission of HIV
Community Care Coalitions and Community Child Coalitions (CCC): Originally part of World Vision's Hope Initiative, the CCC project model seeks to strengthen and ensure community-led care and support for orphans and vulnerable children 
Citizen Voice and Action (CVA) for HIV: CVA mobilises and equips communities to hold their own governments accountable for the promises they make.
Adolescents: Adolescent programmes include strengthening family support and parent-child communication, life-skills in and out of schools, and socio-economic support to help adolescents, especially girls, to stay in school.
Integration with Timed and Targeted Counselling (TTC): TTC takes place in homes within communities as mothers and fathers learn about the best health approaches for their children and families
Vulnerable Child Advocacy (VCA): VCA was developed in 20 African countries to advocate for the rights of OVCs. This model is now being utilised globally in many World Vision programmes. The goal is to expand and strengthen civil society participation at community, national and international levels in developing and implementing policies and programs that support the well-being of children
Advocacy Networks and Engagements
World Vision lobbies directly and in coalitions for three issues: 1) greater prominence to be given to all aspects of the prevention, treatment care and support for children and adolescents both living with and affected by HIV and AIDS; 2) strong language on community engagement; and 3) greater prominence for the role of FBOs.
Related Stories
Read Felix's story: Hope and life after HIV infection
Read about John, a community health volunteer who wades 'river of life' to give hope to people living with HIV
Read Roseline's story, overcoming stigma and fear through Channels of Hope
For more information or general questions about HIV and Infectious Diseases, please contact health@wvi.org
Learn more about World Vision's Global Fund Programmes targeting HIV/AIDS, TB and Malaria