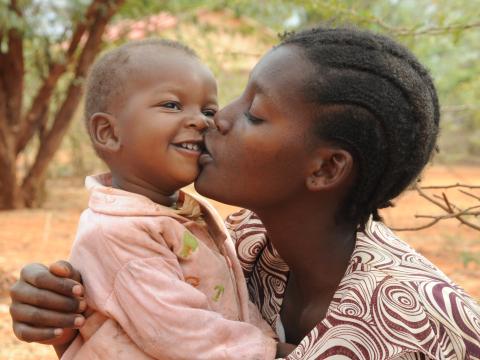 Intervention 1: Adequate diet
Adequate Diet
During pregnancy, there are significant demands on the mother's body to provide for the development needs of the growing baby. In order to meet these needs, a pregnant woman must consume more nutritious food. It is recommended that a pregnant woman add an extra meal to her normal routine and consume a nutritious snack every day. These practices should continue after birth, while the mother is exclusively breast-feeding. In addition, the mother should use iodised salt. Women who are deficient in iodine during pregnancy may have miscarriages or stillbirths, LbW (Low birth weight) babies or babies with congenital deformities. The best way to get enough iodine is normally through using iodised salt. 7-11 programming promotes appropriate messages about the mother's need for an adequate diet, based on locally available foods.
Definitions:
A diet recommended to pregnant women to meet the additional nutrient requirements of pregnancy. A pregnant woman is advised to take one additional nutritious meal and nutritious snack each day during pregnancy. 
Target Behaviours/Results:
Pregnant woman eats a balanced diet

Pregnant women takes one additional nutritious meal and one additional nutritious snack per day while pregnant

Pregnant women uses iodized salt
 Questions:
What constitutes a balanced diet? 
Eating from all of the food groups in the recommended quantities. 
How many food groups are there, and what are they?
It depends on the country. In the past, we had four groups, then five, then the food pyramid, and now, there are all sorts of divisions of food groups around the world. 
Carbohydrates ("Energy giving foods" or "Go foods") should be eaten every day.
Refer to the section on Nutritional General to determine the number of food groups for your country and for guidelines on frequency of consumption for the other food groups. 
What constitutes an additional meal?
It is necessary to have some understanding of the "baseline" eating practices of women in the area. 
Ideally, we would like to see at least three meals a day and one snack as a base. The overall composition of these three meals and snack should represent a balanced diet. 
In some communties or at certain times of the year (during the hunger gap), food may be scarce and women may be eating only one meal a day. In these cases, the recommendation should still be that pregnant women try to increase their food intake as much as possible. 
Why do pregnant women need to take an additional nutrient rich diet?
This is due to the additional nutrient requirements of pregnancy. Pregnant women are more vulnerable to having nutritional disorders such as anaemia unless their nutritional needs are met with additional nutrient rich food intake. 
Pregnant adolescents are particularly most vulnerable to anaemia because they have double nutrient requirements as they need nutrients for their own growth as well as for the growth of the fetus. 
 Other questions may be found in the Facilitator's Guide to 7-11