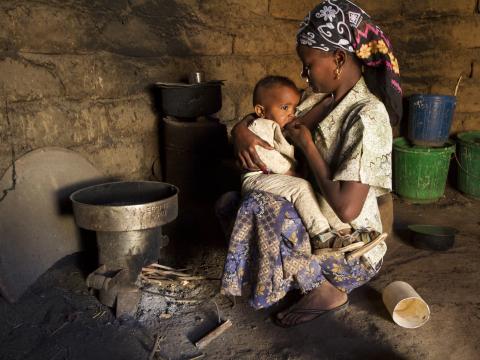 Intervention 1: Appropriate Breast-feeding
Appropriate Breast-feeding
Breast-feeding could reduce all child deaths by 13 per cent. In order to optimise the benefits of breast-feeding, appropriate breast-feeding is the term that encompasses the three key components of breast-feeding.
The infant begins breast-feeding soon after birth (within one hour), with the mother feeding her infant colostrum (i.e. does not throw away the colostrum). This requires support from the birth attendant.
For optimal breast-feeding, the mother should provide nothing but breast milk to the infant for the first six months of the infant's life. This recommendation includes ensuring that the infant does not take a bottle or ingest any other food or liquid, including water. For this, the mother requires the support of not only the health worker but also other key influential family members, such as grandmothers, who may hold different beliefs around this practise.
The mother should continue to breast-feed her child for up to 24 months and beyond with appropriate Complementary Feeding (CF). 
In order to track the infant's growth, caregivers need to monitor their infant's weight gain by participating in growth monitoring and promotion programmes, starting as soon after birth as possible and continuing on a monthly basis until their infants have completed their immunisations.
Unless MoH guidelines recommend alternative feeding, it is recommended that HIV-positive mothers also exclusively breast-feed for six months while both mother and infant continue on ART to reduce HIV transmission. breast-feeding should continue with appropriate complementary foods for the first 12 months of life as long as the mother can continue on ART. Support for adherence to ART, as well as breast-feeding support, is required from healthworkers and volunteers.
Questions:
Why is breastfeeding important? 
Breast milk contains everything babies need for healthy growth in the first 6 months and continues to be an important source of nutrition, energy and protection from illness up to 2 years and beyond. Breast milk is nutritious and easily digested by babies.
Breast milk contains antibodies that help protect babies from common childhood illnesses such as diarrhoea and pneumonia.
Breast milk is free, always clean, and available at anytime and anywhere.
Breastfeeding helps to establish a close bond between mother and baby.
Exclusive breastfeeding is a natural method of birth control, 98% effective during the first 6 months as long as mother's menses has not returned.
Breastfeeding has long-term health benefits for both babies (e.g. reduced risk of obesity and diabetes) and mothers (e.g. reduced risk of breast and ovarian cancer)
When should mothers start breastfeeding? 
Breastfeeding should begin within one hour of birth.  Placing the newborn skin-to-skin between the mother's breasts immediately after birth helps to initiate breastfeeding as the newborn can reach breast easily and begin suckling when he/she is ready. This will improve the newborn's chance to live.
The newborn benefits from receiving the colostrum, which is full of ingredients that protect the infant from illness and give him/her adequate nutrition. Early breastfeeding also reduces the risk of bleeding in mothers and helps expel the placenta.
How long should mothers breastfeed their babies? 
Breastfeeding should continue up to 2 years of age or more. Babies should be exclusively breastfed for the first 6 months of life.
After 6 months, babies should receive nutritionally adequate and safe complementary foods while continuously being breastfed.
What does exclusive breastfeeding mean?
Exclusive breastfeeding means giving ONLY breast milk including the colostrum, but NO water, other fluids or foods to the baby. For the first 6 months, breast milk provides all the water, energy and nutrients the baby needs for healthy growth and development. If directed by doctors or health staff, vitamins, mineral supplements or medicines can be given.
Encourage mothers, especially new mothers, to join a mother-to-mother support group if available, as it is one of the best ways to help mothers practise exclusive breastfeeding.
 Other questions and answers can be found in the Facilitator's Guide to 7-11