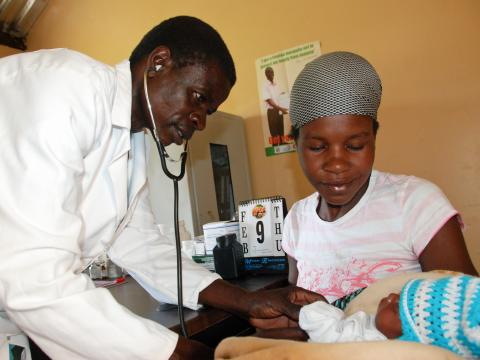 Intervention 7: Access to Quality Maternal Health Services
Facillitate Access to Quality Maternal Health Services: Antenatal, postnatal and skilled birth attendants  
Focused antenatal care
During the late 1970s, the risk assessment approach to ANC did not produce a reduction in pregnancy and childbirth-related death, since it could not predict who would have an obstetric emergency. Current best practise, known as focused antenatal care (fANC), links ANC with causes of maternal deaths. Goal-oriented, fANC uses screening to detect a problem rather than screening to predict a problem, and it treats any problem that can complicate pregnancy. It is recommended that all mothers attend four focused antenatal visits attended by a skilled provider in order to ensure that they
detect and manage any conditions and complications, such as STIs, TB, malaria, HIV or anaemia
receive counselling around healthy timing and spacing of pregnancies, breast-feeding, maternal nutrition, pregnancy danger signs, birth preparedness and complication readiness
receive services such as PMTCT, TT immunisations, IPTp, de-worming treatment, iron/folate and other micronutrients as needed. 
Skilled birth attendants
Given that every pregnancy is at risk and it is impossible to predict who will have life-threatening complications, every pregnant mother should be encouraged to deliver in a health facility by an SbA. Knowing that most maternal deaths are caused largely by pregnancy/delivery-related complications that require effective health systems and skilled care, the 7-11 strategy includes facilitation of access to skilled birth attendance. Skilled birth attendance is delivery attended by an SbA and includes supporting resources such as supplies, drugs, equipment, etc. An SbA is defined as a person with midwifery skills (e.g. doctor, midwive and nurse) who has been proficiently trained in the internationally accepted standard competencies necessary to manage normal (uncomplicated) pregnancies, deliveries and the immediate post-natal period. He/she must also have the requisite knowledge to diagnose and manage or refer complications.
In a vast majority of cases, complications occur because labour and delivery happen at home or on the way to a health facility, without the presence of an SbA. Instead, traditional birth attendants (TbAs), or community-based care providers during pregnancy and childbirth, are often available. TbAs usually learn through apprenticeship and are not proficiently trained in the skills necessary to manage or refer obstetric complications. When a pregnant woman decides to deliver at home, the woman and her family, along with a TbA where available, should be trained on the "6" cleans (including a clean birth kit) and how to recognise danger signs and complications. They should be equipped with home-based life saving skills (HbLSS) and encouraged to promptly seek care and prepare emergency funds. TbAs can help in the following ways
identify and encourage pregnant women to seek fANC
support and encourage women to adopt maternal health practises, e.g. receipt of HIV testing and PMTCT services, ART adherence, TT, intake of iron/folate supplements, use LLINs, have adequate nutrition and rest, etc.
prepare a birth plan
promote the use of SBAs for pregnancy, birth and post-natal period; where feasible, assist SBAs during ANC, delivery and PNC of both mother and baby
promote exclusive breast-feeding and family planning
Post-natal care
The most critical time for both mother and baby is the postpartum period, especially the first 24 hours and the following 7 days. This period is when the majority of deaths occur. During this time the leading cause of postpartum deaths among mothers, heavy vaginal bleeding, can be detected. This is also the time when most mothers lack effective care. Although a consensus regarding a standard package of PNC has not yet been reached, two key practises will significantly reduce maternal deaths: 1) closely monitor every woman for haemorrhage every 15 minutes after delivery for the first two to three hours and regularly thereafter during the first 24 hours; 2) as infection is the second most common complication after childbirth, monitor the mother's temperature for fever and chills to rule out infections. In cases where the mother delivers at home, families and birth attendants should know the above signs and symptoms and should know where to seek care should they arise.
Definitions:
Facilitate access to quality maternal health services: antenatal and postnatal care; skilled birth attendance
Target behaviours/results:
Every woman attends at least 4 quality antenatal care appointments during her pregnancy
Every woman delivers her baby with the assistance of a skilled birth attendant
Every woman receives quality postnatal care, immediately after birth and in the following weeks


Questions:
What is meant by "facilitate access" to quality maternal health services? 
To facilitate means to ease, to expedite, to help, to promote or to speed up.  Maternal health services are health services provided to the mother during pregnancy, at the time of delivery and in the weeks after the birth.
We know that there are many barriers which prevent pregnant women from reaching or accessing maternal health services provided by the Ministry of Health or other approved providers. These barriers might be financial (not having money to pay for services), geographic (difficulty travelling to the health services), or due to a lack of knowledge and awareness or fear of health services. It is therefore everybody's responsibility (COMM, chiefs, families, husbands, mothers in law, NGOs and government) to help reduce these barriers so that pregnant women can access and reach maternal health services (antenatal care, reach a skilled birth attendant for her delivery and have a postnatal checkup after the delivery).  Pregnant women who access quality maternal health services have a much higher chance of delivering a strong health baby and not dying if there is a complication. 
What is antenatal care? 
Antenatal care is care provided by midwives, nurses or doctors to check that the pregnant woman and her growing baby are healthy. All pregnant women should have antenatal care even if she has had many other pregnancies or it is her first pregnancy.
During an antenatal care consultation the health staff will check the pregnant woman for any illnesses and for potential risks of complications and to make sure the baby is growing. They will give her tablets to make her and baby stronger and, where relevant, to prevent malaria, give her injections to immunize her and her baby against tetanus infection and provide education about preparing for the birth and care of the baby and herself after the birth. 
Why should a woman have 4 antenatal care appointments during pregnancy? 
At least 4 antenatal consultations protect the pregnant woman and the growing baby against complications and keep her healthy and strong in preparation for the birth. Complications (unexpected difficulties) can arise as the pregnancy progresses and the time when most women need the most antenatal care is in the last 3 months.
 A full term healthy pregnancy lasts around 40 weeks (9 months). Pregnant women should visit for an antenatal consultation once they know they are pregnant at or before 3 - 4 months (12 – 16 weeks), again at 6 – 7 months (28 weeks), at 8 months (32 weeks) and again at 9 months (36 weeks). Approximately 25% of maternal deaths occur during pregnancy and of these up to half are related to poor quality or lack of antenatal care.
Pregnant women may die or become very ill because of a condition called high blood pressure which causes convulsions or bleeding from the placenta called an antepartum haemorrhage (APH).  More often, their baby dies. Detecting high blood pressure is one of the key roles of the antenatal clinic staff in late pregnancy and is why pregnant women need to attend for 4 visits. Pregnant women may not feel unwell with this disease until suddenly becoming very sick. 
What are the elements of "quality" antenatal care? 
Quality antenatal care means that the health staff are qualified and trained to provide antenatal care, have all the essential equipment and drugs they need and there is enough staff so that the appointment is not rushed and the pregnant woman can ask questions.  It also means women are treated with respect and are given a personal pregnancy health book or card.  The nurse or midwife must be able to refer a pregnant woman to doctor if they find she has a complication.
 The essential equipment the staff will need includes an arm cuff and stethoscope to measure blood pressure, adult weight scales, a tape measure to make sure baby is growing and a fetal heart sound devise (called a fetoscope or Doppler) to make sure the baby's heart rate is strong. The essential drugs needed include enough iron tablets for 3 months for each pregnant woman, enough anti-malaria tablets in relevant areas and enough emergency drugs if the women becomes very sick.
Additionally, the clinic should also have access to a laboratory and enough blood testing equipment to check for infections or illness.  If any of these items above are not available then this is not quality antenatal care and so places the pregnant woman and her baby at risk of illness or complications. 
What is a skilled birth attendant? 
A skilled birth attendant (SBA) is a midwife, nurse or doctor who has been trained in health and maternity care. This usually means they have attended at least 3 years of training in health science and/or another year studying the care of the pregnant women, care during delivery and postnatal care.  They must hold a license or registration certificate to practice in their country. 
A skilled birth attendant should also have received extra training to enable them to detect and manage an emergency and this training is often called Basic Emergency Obstetric and Neonatal Care (BEmONC).
 A Traditional Birth Attendant (TBA) is not a SBA but may have had some basic training of around 6 – 8 weeks. While a  TBA does not have the years of training or skills needed to help save the life of a mother or baby in case of emergency, a TBA can however be a great support to pregnant women and to SBAs. They should be encouraged to help women and accompany them to the facility and stay with them during labour, birth and the early days after birth. 
What is postnatal care? 
Postnatal care is the care provided to mother and baby immediately after birth and for the next 6 weeks. This care is provided by the SBA while the mother is in the facility before discharge and then at home by a trained CHW who should visit the mother at home at least 3 times in the first week after birth. 
All mothers should attend the health centre to see SBA again at 6 weeks after birth for a postnatal checkup. Postnatal care consists of checking the mother for excessive bleeding, fever, signs of infection, or any other complication and providing support and education to establish breastfeeding and care of the newborn. 
Why should a woman receive postnatal care? 
Postnatal care is critical to ensure survival of mother and baby and to allow the mother to recover from the pregnancy and delivery. The postnatal period is a time when many complications occur, especially excessive bleeding in the first 24 hours after birth, or infections which most often occur in the first week after birth. Women and their babies are very vulnerable in the first 6 weeks after birth and need rest, good nutrition and regular checkups by trained CHWs and SBAs to make sure they can care for their new baby and can resume normal activity in their family and community. 
What are the elements of "quality" postnatal care? 
Quality postnatal care means 3 key things; staying in the facility for at least 24 hours after the birth, being checked by CHW 3 times in the first week once at home, and going for a postnatal checkup at 6 weeks after birth.  The mother should be able to stay in a postnatal room in the facility for at least 24 hours after delivery before going home.This enables the SBA to check on the mother regularly including for bleeding and to check the baby is breathing well, is warm and is feeding regularly. It also allows the SBA to give advice and education about breastfeeding and make sure the mother has rested and is strong enough to go home. Many facilities however lack a postnatal room and the essential equipment needed such as beds, water and privacy so the mothers are sent home very quickly and are not checked or educated before leaving.
 If the SBA alerts the CHW that a new mother is leaving and will need home visits then she can be followed up quickly at home during the critical time of the first week. The CHW can check the mother and baby, give advice and refer back to the SBA if they find any danger signs.
 Finally attending a postnatal check up at the clinic at 6 weeks after birth ensures all is well for the resumption of normal family life and the SBA can provide family planning options to assist with birth spacing, as well as provide child immunization and education on continued exclusive breastfeeding.