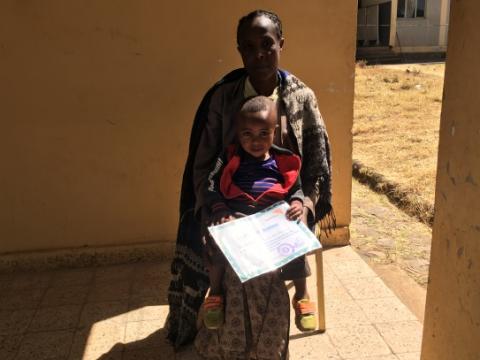 Embracing PMTCT For "A Miracle Child"
Wednesday, February 8, 2017
Article provided by World Vision Ethiopia and Dr. Adugna Kebede, World Vision International Technical Director for HIV and TB.
In 2013, World Vision Ethiopia with support from WV Hong Kong introduced a three years (January 1 , 2014 to November 30 , 2016 ) HIV and AIDS program with the objective of enhancing community PMTCT services in three Area Development Programs. The project aimed to increase PMTCT uptake and reduce loss to follow-up to PMTCT services through demand creation, improved capacity of PMTCT service providers and enhanced evidence-based decision making to address challenges and bottlenecks for uptake and follow-up of PMTCT services.
Chaltu is a 25 year old business woman married to Tesfaye; she is a mother of 2 boys, Birhanu and Tamirat Tesfaye, 10 yrs and 3 yrs old respectively. Chaltu has been on anti-retrovial therapy (ART) for the last 5 years and has been a member of the local Mother Support Group for over 4 years.
Chalitu got married to her first husband at the age 13 and she gave birth to her first child, Birhanu two years later when she is 15 years old.   Five years after the birth of her 1st child, she got sick with frequent diarrhea, cough, generalized weakness and subsequently loss of weight. Her 1st husband left her when she was critically sick.  Following several consultations and a series of tests at the health center and private clinics, she was diagnosed with Pulmonary Tuberculosis (TB) and immediately started with anti-TB drugs. The health care provider at the health center also referred her to Health Center for HIV testing. Holeta health center was the only health facility with HIV testing services in the area. The test confirmed the presence of HIV in her blood; her son was also tested for HIV and was confirmed as HIV negative.  
Chiltu joined Inchini mother support group in 2014 when she was pregnant to her second child, Tamirat. The Inchin mother support group was established in 2014 with a collaborative effort of World Vision and the Adaberga Wereda Health Bureau. The Mother's Group has 28 members and two facilitators - both who are HIV+. World Vision provides technical and material support to the group.  The district health bureau pays allowance to the two facilitators and provides a start-up money fund for income-generating activities. Chaltu, as a member of the mother support group actively participates in the group activities. 
"Meeting every week with the other women in the mother support group helped me to know better about my health problem and save my child from getting HIV. Seeing many women who are HIV positive like me and who were able to have an HIV negative child gave me the confidence and strength to follow the medical advice given to me during my pregnancy seriously.  I named my son Tamirat which means "Miracle" in Amharic [one of the major languages spoken in Ethiopia] because it is a real miracle to have HIV negative child from HIV positive parents.  I am grateful to World Vision and the health center for helping us to live above our health problem."
Tamrat, meaning miracle, was born HIV free.
World Vision and the Wereda Health Buearu gave Chalitu a certificate of attendance and a baby kit in recognition of her HIV negative child following her participation in PMTCT services during her last pregnancy.  
Read more about World Vision's HIV and AIDS Programming.