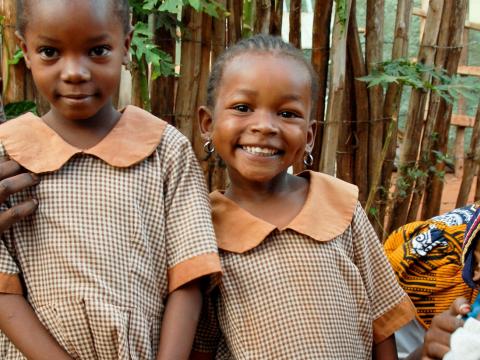 Our secret to hitting the first UNAIDS '90'? Visiting mothers in their homes.
Wednesday, February 15, 2017
By Adugna Kebede Yimam, Technical Director HIV AIDS and TB
90–90–90 has been described as an ambitious treatment target to help end the AIDS epidemic. World Vision certainly has a history of shooting for ambitious targets: from helping thousands of children orphaned by the virus to equipping faith communities to end stigma and discrimination. However, while our contribution to UNAIDS' first 90—home visits—is quite pedestrian, it is proving vital.
The new WHO guidelines on antenatal care recommends that, to reduce prenatal mortality and improve women's experience of care, they should have a minimum of eight contacts with health providers during their pregnancy. The guidelines also recommend that pregnant women should have their first contact in the first 12 weeks' of gestation1.
However, studies reveal only 64% of women receive antenatal/prenatal care services four or more times throughout their pregnancy. Many of them attend antenatal care for the first time late in their pregnancies because of reasons including unfriendly service providers; fear of testing HIV positive and the stigma that brings; cultural beliefs or fears; or because they discover they are pregnant late into their pregnancies.2
If pregnant women attend antenatal care early in their pregnancy, however, HIV can be detected early and they can begin treatment. This makes it less likely that their babies will contract HIV. It also helps to support their own immune systems, which decreases the chance of infection before or after birth. Second, early attendance allows doctors to treat and manage other treatable health conditions that the mother-to-be may develop. 
This is why World Vision's community-prevention of mother to child transmission (c-pmtct) HIV programmes is so crucial. Identifying pregnant women early during home visits carried out by health volunteers, community health workers and mother support groups means they can be referred to the nearby health facilities for antenatal care services and HIV testing. This bridge between community services and health facilities is one that is making all the difference. 
In Ethiopia for example, World Vision's c-pmtct programme in Adaberga wereda, Oromia region, identify pregnant women through home visits carried out by the members of mother support groups who refer them to antenatal care services and HIV testing. Mothers with HIV positive blood test results join mother support groups who provide psycho-social support, follow-up for adherence to treatment and involve the mother in mother support group meetings and economic activities. 
In Uganda, our c-pmtct programme uses the timed and targeted counseling (ttC) method in which Community Health Workers are in charge of conducting home visits—that involve the father and extended family—to identify pregnant women early and provide counselling related to the pregnancy. Pregnant couples are also referred to antenatal classes and HIV testing to a nearby health facility. In 2016 alone, World Vision facilitated HIV testing for over 23,380 pregnant women.
In Tanzania, our WAKINGE c-pmtct project in Kahama District contributed to an increase in the percentage of women who were offered HIV Testing and Counselling during antenatal care visits from 82% in 2014 to 92.7% in 2016 within the two year project period. This was mainly achieved through behavioral change communication aimed at raising couples' knowledge about HIV and AIDS and, more specifically about PMTCT, and through community mobilisation. Similarly World Vision's c-pmtct programme in Democratic Republic of Congo in 2016 reached out to 20,380 pregnant women in 19 project sites who were offered and accepted counselling and testing for HIV, of whom 720 pregnant HIV positive women were started on treatment. 
It's clear from just these four examples that sometimes commitment to simple approaches—empowering members of the community with vital information—can ultimately achieve something ambitious in terms of scale and impact.
**** 
World Vision is guided by its "Vision 2020 - HIV and AIDS strategy" and fully committed to contribute to the global goal of ending the AIDS epidemic by 2030. Learn more at http://wvi.org/health/hiv-and-aids-programmes
1 WHO recommendation on antenatal care for a positive pregnancy experience, WHO, 2016
2 Barriers to early prenatal care in South Africa. Haddad DN1, Makin JD2, Pattinson RC2, Forsyth BW3. Int J Gynaecol Obstet. 2016 Jan;132(1):64-7. doi: 10.1016/j.ijgo.2015.06.041. Epub 2015 Sep 21.