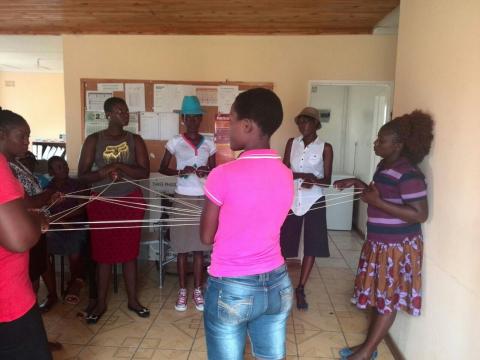 Zimbabwe-Key Population (Sex Workers)
Tuesday, June 28, 2016
HIV programming in Zimbabwe has two main objectives; the first is to contribute to an increase in the adoption of safer sexual behaviours and reduction in risky behaviours; and the second, to strengthen the involvement of communities in the provision of ART services. By focusing on these objectives in 2015 World Vision Zimbabwe was able to reach 173,014 individuals within the target populations including sex workers, as well as 77,110 young people between the ages of 10 and 24. Care and support has been provided through the work of Behaviour Change Facilitators (BCFs) who were trained to improve self-awareness, financial awareness, physical awareness, negotiation skills, and communication and assertiveness among vulnerable populations in regards to sexual and reproductive health.  
One of the most marginalized populations World Vision Zimbabwe works with is sex workers. The stigma and discrimination they face increases the risk of acquiring HIV and makes it difficult to seek services. To address the needs of this population peer support groups have been created to assist sex workers in a holistic way, BCFs use dignity and respect in all interactions with the workers treating them as mothers and women. This builds rapport with the women who trust the facilitators and continue participating in the groups and encouraging other sex workers to participate.
Angela Nkomo is a 27-year-old woman who participates in the peer support group. She was born into a subsistence farming family and because the struggles the family faced financially she was unable to go to school and started a relationship with a cross-border transporter at 16-years-old. Soon after starting the relationship she was married off for six cattle, groceries, clothes, and money. She believed this was her escape from the "house of hunger"; however her husband stopped visiting between transports and stopped providing for Angela and their child. Feelings of loneliness and being unloved drove her to spend time with other men and her desperation and the needs her own child eventually led her to be involved with them for financial benefit. After two years of living as a sex worker she moved to a new town where she learned of the Behaviour Change programme. By participating in the programme Angela learned the importance of, and sought out HIV and cervical cancer screening, improved her own self-awareness and respect which led to a zero tolerance for unprotected sex and a desire to share what she has learned with her fellow sex workers. The programme has improved her quality of life and instilled a hope to be a good role model for her child and seek out alternative, respectable sources of income.