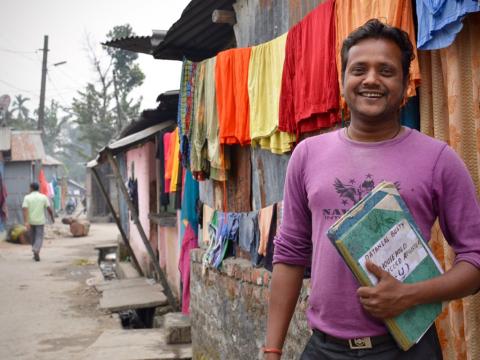 Guardians of the community - Disha's Story
Tuesday, January 19, 2016
According to official reports, one child goes missing in India every eight minutes. More worryingly, around 60 per cent of those missing are girls and 44% of all missing children have remained untraceable.
Disha's family had already trained her to reach school, which was very close to their home. It was just like any other day, Disha*, 6, dutifully following her daily routine, left in the morning for school.
I remember that day clearly. The school informed me that Disha hadn't reached.
Her tiny feet didn't make it to the school gates. Like a fog, Disha vanished in the morning wave of the city's hustle and bustle.
"I remember that day clearly. The school informed me that Disha hadn't reached. A state of panic gripped me. Where could she have gone I thought to myself? I took my cycle and rode out in a haste trying to trace her footsteps within the locality. She was nowhere to be found," says Dharmender*, Disha's father.
"I was worried about her safety and as time went by the hope of ever finding her faded away. For a mother it is the worst possible feeling," says Kamla Devi*, Disha's mother.

While their search for missing Disha spilt over to other communities, locality member Arjun enquired from shops where the girl was last seen.

"When one of the shopkeepers heard about our struggle, he introduced us to a child protection unit member from his colony called Sandeep. Sandeep called the child line number and informed them about Disha. He also asked us to use mobile announcement platforms to spread the word about Disha. We had one picture of the child, which Sandeep posted on his Facebook wall, appealing people to urgently join the quest for finding Disha by sharing the post with their friends. He urged the people to call the police or my contact number in case anyone found the child," says Arjun.

A police constable doing his rounds in Khalpara area stumbled upon Sandeep's Facebook post on his phone. Khalpara in Siliguri is not only a hub for commercial sex work, but now is also considered as a major centre for trafficking children and sex workers.
Children between 6-9 years are taken from Khalpara and sold to different brothels in major Indian cities.
"The constable was in one of my friends' friend list and after seeing the post he happened to catch a glimpse of a child matching the same description as in the photo. She was with a man. When the constable approached the two, the man left the girl and ran. Arjun called me immediately when the child was brought to the Khalpara police station," says Sandeep.

After a grueling 13 hours ordeal the missing child Disha was finally traced and brought to the police station.

"It was most exciting moment to see my daughter sitting in the station. I took her in my arms, she was crying and looking at her, my eyes started tearing up. She was safe and finally with me," says Dharmender.
Community meeting for protecting children. (Photo by World Vision)
"Our child protection unit acts as guardian of the community, whatever an act that threatens the rights of a child happens in the community the children club and CPU members get to know about it. We discuss the matter and take appropriate action. Before joining the CPU I thought only about my wellbeing but now our mind is conditioned to think about the well-being of our community," says 14-year-old Hina, a CPU member.

* Names changed to protect identity
Grant Profile
Grant Project Name: India Child Protection Project
Funded by: Australian Department of Foreign Affairs and Trade (DFAT) - Australian NGO Cooperation Program (ANCP)
Time frame: 3 years (2013-2015)

Purpose and Objective: To reduce incidents of child labour and trafficking in the communities.