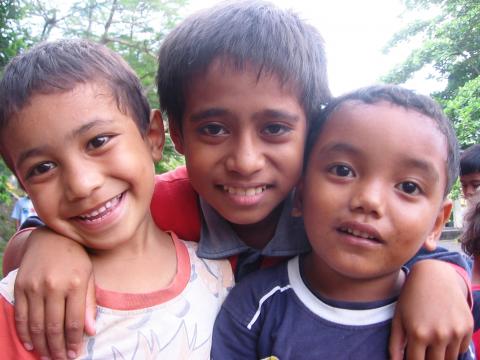 About Us
The office was moved to Malang in 1963 and then to Jakarta in 1979 to accommodate the growing ministry. Since 1980, World Vision Indonesia conducted its service under an MOU arrangement with the Social Affairs Ministry.
The ministry approach has undergone transformation all through the years. In 1960s and 1970s, the main focus of the ministry was supporting the lives of children in scores of children homes in Java, Sulawesi, Bali, East Nusa Tenggara, and Kalimantan.
Since early 1970s, World Vision Indonesia initiated the community development (CD) approach to provide a more integrated support for the empowerment of poor community and their children. The first CD project was initiated in Loksado hamlet in South Kalimantan in 1972 and then also in Lerak-Batu Ahim hamlets in West Kalimantan a year later. These projects improved basic education, primary health, income generation, and basic infrastructure.
World Vision International adopted this 'Indonesia's approach' during its conference in 1974 and implemented the CD project in many other countries. Between the 1970s and 1990s, this CD approach has led to the empowerment and transformation of many lives across the globe. 
Since the middle of 1990s, World Vision introduced the Area Development Program (ADP) approach to ensure a more effective and lasting transformation in the lives of the poor communities. The ADP approach, with longer intervention lifetime and much bigger and concentrated programs, has indeed led to a more sustainable development and impact.
Relief and reconstruction
All through the decades, World Vision also channeled emergency relief support to those affected by natural disasters or communal conflicts. In 1963, World Vision supported the victims of Mount Agung eruption in Bali and then also supported the resettlement of displaced people in West Kalimantan, Maluku and some other places in 1970s and 1980s.
More massive emergency and reconstruction responses took place between 1997 and 2009 following severe economic crises, drought from the El Nino weather phenomenon, bloody communal conflicts, earthquakes, and the gigantic tsunami in Aceh province.
In Aceh alone, for example, World Vision provided food and non-food aid to more than 100,000 people and built more than 3,500 permanent houses to ease the lives of the survivors.
Currently, World Vision -- in special partnership with Wahana Visi Indonesia -- supported some 50 ADPs in North Sumatra, Jakarta, East Java, West Kalimantan, Central Sulawesi, East Nusa Tenggara, North Maluku, and Papua.
Every fiscal year, World Vision channeled some US$20 million of fund entrusted by donors and sponsors in several countries -- and local sponsors through Wahana Visi -- to fight poverty and bring about lasting transformation in the lives of the facilitated community and their children.