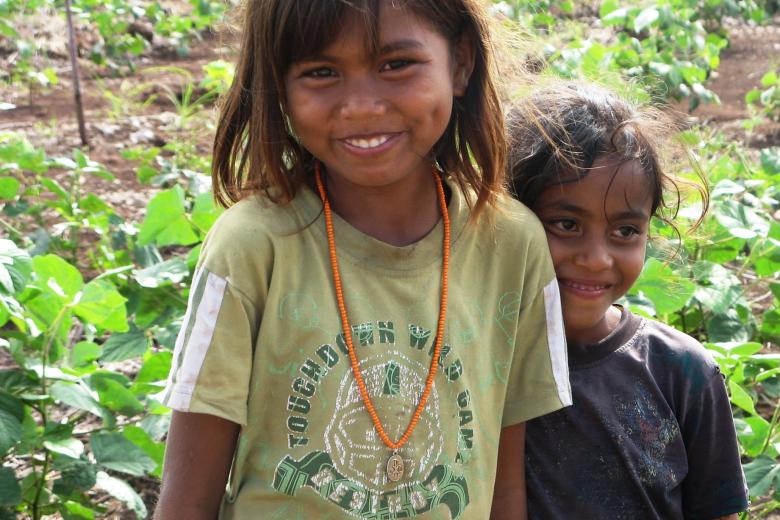 30,000 Trees Planted in East Sumba Barren Land
Tuesday, November 6, 2012
By Bartolomeus Marsudiharjo, World Vision Indonesia communicator 
World Vision Indonesia encourages people in seven villages in Hahar sub district, Sumba Timur district in East Nusa Tenggara province to plant their barren land with various local trees. 
Amsal Ginting, World Vision Indonesia's East Sumba Area Development Program (ADP) manager, says that World Vision has encouraged more than 1,000 families to plant more than 30,000 trees to change around 30 hactares of barren land into green area. 
Community members are enthusiastically responding the reforestation programme. They work very hard to clear stones in the land, plant hardwood trees, build fences with stones to protect trees from livestock, and use the intercropping planting method with short term plants like peanut trees.
"The number of trees being planted will continue to rise in the future," says Amsal at the inauguration of the reforestation programme on Wednesday, February 7, 2012. 
The head of Sumba Timur district, Gidion Mbilijora, and head of Local House of Representatives of Sumba Timur district, Palulu Pabundu Ndima, attends the inauguration.
Amsal says the seeds of the trees are provided by the local government. The reforestation activity is part of utangu na anamu programme, which means forest for your children in the local language.
The demonstration plot of the forest is only one of World Vision's interventions to regreen Hahar. The other activity is preserving wild trees in the jungles known as Farmer Managed Natural Regeneration (FMNR) reforestation technique developed in West Africa in the 1980s and 1990s. At the moment, around 1 million of trees in the jungles are preserved by community members. 
"World Vision does not only encourage people to plant trees but also prepares agreements to make sure that they will be responsible in planting and preserving the forest," Amsal says.
This programme began a year ago when World Vision responded to a prolonged dry season that hit in the area by distributing rice and encouraging people to plant trees to improve land fertility.
While rainfall in most areas in East Nusa Tenggara lasts for three months, the rainfall in Hahar sub district only lasts for two months a year. 
Gidion says that the programme is expected to be able to change the face of Hahar sub district.