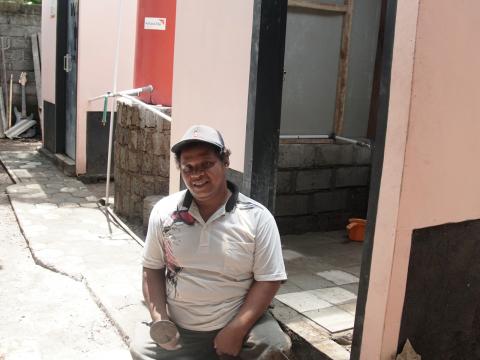 6 Months On Lombok Earthquake: Disability Does Not Inhibit Good Action
Tuesday, February 12, 2019
Rusnadi (45 yo) at a glance looks no different from other normal people. He spoke and laughed normally, even able to work and earn income with both his hands. The hand he has also succeeded in creating two male-and-female toilets in Labuhan Pandan Sub Village, Sambelia Sub District, at East Lombok District, as a place where he lives with his family.
Even though Rusnadi can work optimally, sometimes he feels tired and cannot reach the highest area of the toilet. He was unable to walk and stand normally to make a toilet frame. That is why he needs the help of his children to create toilets which comes from Wahana Visi Indonesia Lombok Earthquake Emergency Response team. The physical lack he has do not appeal to be not able to do good for others.
Although the toilet of his creation was used by at least 30 people in one sub village, Rusnadi only worked on the toilet with the help of two of his children. The neighbors cannot help due to work.
"This is our toilet. Even though these neighbors all work as builders, it doesn't matter if they can help me to build this toilet," he said.
According to Rusnadi, Wahana Visi Indonesia  (WV Indonesia) team came through the Sub Village Chief and provided toilet materials directly to him. After receiving all the building materials, he immediately worked on the construction of toilets in just three days, so that the toilets could be immediately used by the villagers.
After the earthquake attacked Sambelia Sub District, Rusnadi had lost everything. There is no more house of 100 m2 with kiosk where his wife and he sells various chips. He could not get daily income of up to IDR 150,000 after the devastating incident in Lombok.
The toilet donation was felt very useful for Rusnadi and people around him. The villagers now feel more comfortable for having new toilets like they have today.
Rusnadi and his family now live in a temporary house which he created from the results of collecting the rubbles of his main house. Even though he has a temporary residence, Rusnadi occasionally remembers the existence of his former home.
"My destroyed house was made at a cost of IDR 100 million. I made it gradually for five years. If I look at the location of the house, my heart is still desponding," he said softly.
This time Rusnadi and his family are still looking forward to the government's promise to give a temporary shelter called RISHA (Simple Healthy Instant House). He hopes that with the temporary shelter, he can bring his family life back to normal.
Since the six months of response carried out by WV Indonesia's team in Lombok, at least 1,241 toilets have been set up in more than 600 points in North Lombok and East Lombok Districts, along with water tanks placed around the toilet. By doing this activity, WV Indonesia hoped that the community can live clean and healthy even though they are still live in temporary housing.
Written by: Putri ianne Barus, Field Communication Officer Wahana Visi Indonesia