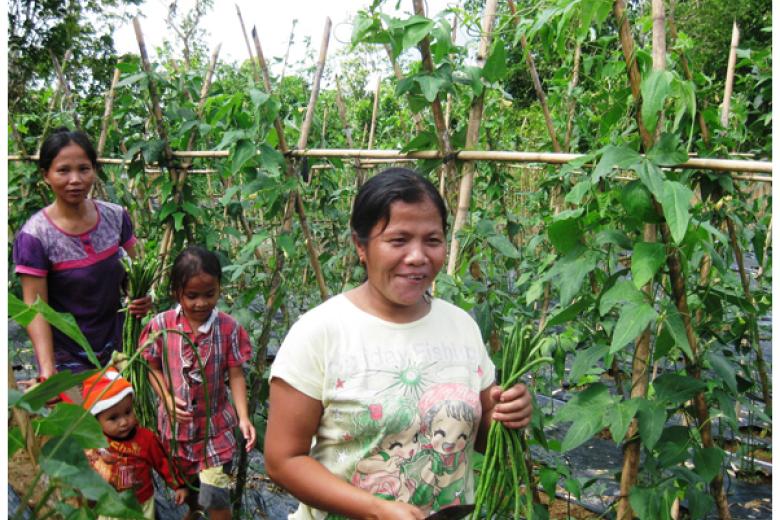 Building Food Resilience From Home
Wednesday, December 11, 2013
Surfing and stone jumping, these are the most famous icons whenever we talk about Nias, a remote island in North Sumatra, Indonesia, which lies on the Ring of Fire line. Little did we know that the same island is moving, progressing to build food resilience for generations to come.
The world's growing population makes finding resources more competitive. Decreasing amounts of land to provide our food, water, and housing create another challenge. In contrast, some "sleeping" or uncultivated ares can still be found in remote villages and urban jungle. The space can be used for organic farming to supply nutritional needs on a small household scale.
The idea is taken to another level by Nias villagers who rely on Medan – the closest city of North Sumatra - for their food supply. When bad weather comes, ships can't sail and airplanes can't fly. Food is more difficulte to buy and the prices increase.
The conditions are even worse if disaster strikes, damaging roads, as seen during the 2004 tsunami and 2005 earthquake. Inadequate access to food threatens children's survival and developmental needs while lands to produce food are actually available in Nias.
World Vision Indonesia started to work in Nias after a major earthquake struck in 2005. Six years later, World Vision found out that many Nias children were undernourished. Further study showed the issue rooted from parents' lack of information on balanced, nutritious meals. Through intensive communication, Nias villagers welcome the idea of giving nutritious food for children.
They choose to focus on two approaches: organic farming and creative food processing. The organic farm is called nutrition garden – a designated area where a group of mothers can plant string beans, cassava, chayote, papayas, etc. Not only does it supply their families' meal, the nutrition garden also produces more vegetables to sell, providing additional income.
In creative food processing, World Vision facilitated the group to be innovative in cooking the same ingredients. With different presentation, children who previously refused to eat their greens, were suddenly gobbling up the meals.
"After watching how our parents enjoy gardening, we became interested to join the movement. We have received some seeds from World Vision and have planted chillis, eggplants, also string beans. We find this after-school activity very useful," said Aneks, 15, the leader of North Nias youth group.
Aneks' joy is also felt by her peers in different area who joined as one larger group in FORANI – Forum Anak Nias (Nias Children Forum).They have created nutrition gardens in two different villages and plan to have 40 by June 2014. They also organized a cooking demonstration along with nutritious cooking competition in August 2013.
Their excitement was captured by The European Commission who invited a FORANI representative to get involved in European Development Days which was held last November in Brussels, Belgium. The agenda was to discuss a global development framework as the current MDG are coming to an end in 2015. By involving youth participation, today's leaders show that they are considering the voice of tomorrow's leaders.
Restanti, a girl age 16 from Nias, was appointed by the forum to amplify Indonesian children's voices- all the way in Europe. While the world leaders are brewing policies to tackle food crisis globally, these young future leaders in Nias already start building food resilience at home. (*IDNO/Story and Photos by Shintya Kurniawan)