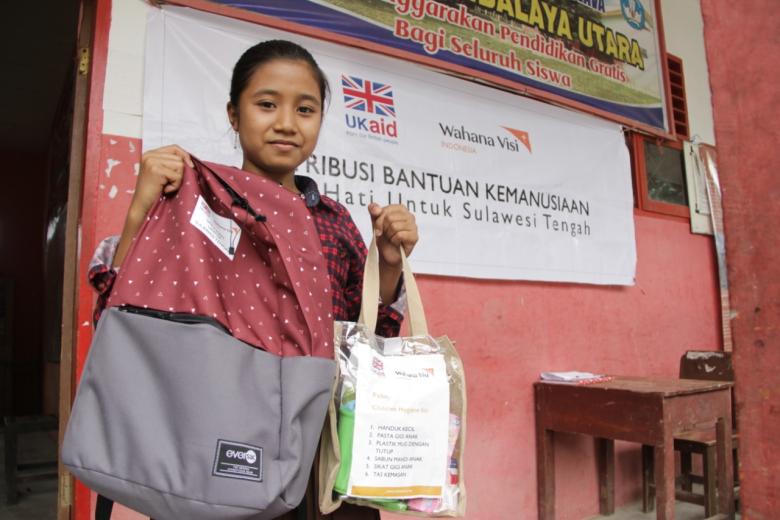 Central Sulawesi Emergency Response: Build Student Enthusiasm to Back to School
Tuesday, March 5, 2019
Intan (13 yo) enthusiastic about attending today's class. She always sits on the front bench with her best friend every day. Intan and her classmates are following mathematics class today. Intan always wants to be the Police. She is happy to be able to go back to school, after the earthquake and tsunami hit Central Sulawesi on September 28, 2018.
Intan is one of the affected children by the earthquake in Sigi, Central Sulawesi. Some of the houses are moderately damaged. Even so, the shock happened, make most of the equipment in her house scattered. The closet where Intan kept her school supplies had collapsed, and damaged most of her school equipment. This condition made Intan missed in some lesson, considering that she would soon take the graduation exam to continue to the junior high school level.
"I immediately left the house, so I could not save my belongings," Intan said.
While not attending school, Intan continued to study with the help of her older brother who was already in high school. Conditions after the earthquake made her feel limited because the equipment of the family owned was damaged, including a number of textbooks. Intan had to ask for some subject from her teacher because a number of her textbooks were damaged and could not be read anymore.
Through the Earthquake and Tsunami Disaster Emergency Response Program in Central Sulawesi, Wahana Visi Indonesia supported by the British Government distributed school kits and hygiene kits for children to a number of elementary and kindergarten schools spread across Palu, Sigi and Donggala including schools located in Tanambulava District, where Intan and her friends go to school.
"It's nice to be able to get bags, school supplies, and hygiene kits," said this 6th-grade student happily.
Previously, Intan used a bag that had not been used to school for a long time because her favorite bag was damaged. As for other learning equipment, she must also share with her brother. Intan and her friends seemed cheerful with the new school supplies they had received. The distributed school supplies package contains a pack of books, a set of markers, a ruler, a pen, an eraser, and a bag.
This school equipment package seeks to encourage children to go back to school. Because after the earthquake and tsunami, the attendance rate of students go to school dropped dramatically. This is because they are still afraid to be away from their families, plus aftershocks that occur quite often.
The Earthquake and Tsunami Disaster Emergency Response Team in Central Sulawesi has distributed 990 packages of school kits and 771hygiene kits for children in affected schools spread in Palu, Sigi and Donggala so that they are still eager to go to school. So that their basic rights to get an education are still fulfilled even though in an emergency situation.
Written by: Melya Findi Astuti, Communication Officer of CENTRE Wahana Visi Indonesia