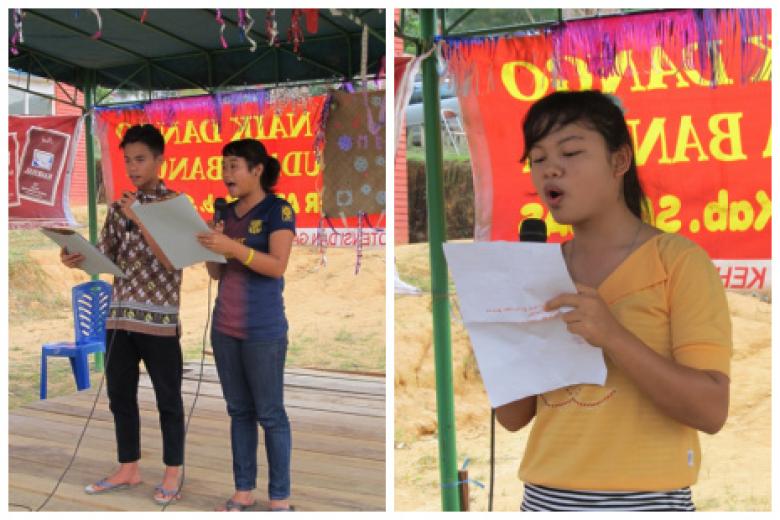 Creative Children Forum in the Border Region
Wednesday, January 8, 2014
The declaration of Children Forum in Sajingan was held on October 6, 2013 with the theme: Creative Children Forum, in the border region. The declaration of the children forum aims to gain support of every community, and to provide a forum for teenagers to conduct creative personal development in accordance with the interests and talents of the children in the village.
"The children are very lucky to live in this era, not like in my era, in the era of our village head or in the era of Mr. Sudirman, a teacher in Sajingan," said Mr. Suhut Firmansyah, the sub-district head of Sajingan Besar.
In the past not many children could go to school, but now there are many government programs that can help children to go to school and there are scholarship programs offered by the government.
"The only requirement is that the children want to learn for a good future and to become smart," said the sub-district head seriously, looking at the teenagers, "I always support the Wahana Visi Indonesia activities that focus on the fulfillment of children's rights."
The Children Forum in Sajingan sub-district consists of youth in junior and senior high school, or the equivalents, and so far there have already been two Children Forums, i.e. the "Ribers" Children Forum in Kaliau village and "Pancarek" Children Forum in the Sanatab village.
The teens active in the "Ribers" as well as" Pancarek" Children Forums also conducted a show on the stage, through poetry reading, drama, vocal groups and traditional dances modified with modern dance. They dared to show in the public, it means that they have the potential, interests and creativity that need to be developed and supported by all parties for the sake of the village development.
By that theme, the teenagers are expected to leverage the existence of the children forum in the future and the presence of children forum in the village will have a good impact and the impact be spreading to other villages so that there will be a children forum in every village.
An example of the show performed by the teenagers was the reading of poems written by Yunita, a grade 9 student of Sawah 2 State Junior High School, Sajingan Besar sub-district.
There were a lot of ideas, works and creativities of the teenagers performed in this event. All of the activities, ranging from stage decoration through the show types, were done by the teens themselves who are members of the two of the Children Forums. This activity encourages every teenager in order to care about the other teenagers around them, to have a willing to learn to organize, to voice the aspiration of the children although just in the scale of the Children Forum in the village.
* (Simon Sinambela, Education Coordinator of Wahana Visi Indonesia in Sambas Operations Office | Translated by Lukas Ginting)