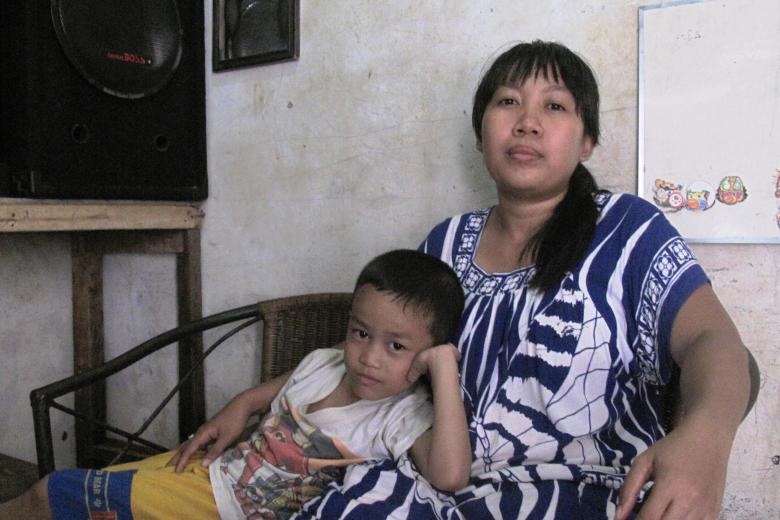 Displaced Person Helps Distributing Aid
Tuesday, January 22, 2013
Sulistyawati (28) gladly helps other internally displaced people in Cipinang Melayu, East Jakarta, although she herself is a victim of the massive flooding inundating Jakarta area these last few days.
"Last night I have just finished helping the distribution of rice at some shelters nearby where internally displaced people temporarily stay," Sulis shared her experience on Saturday noon (January 19).
Sulis' rented house near the Ciliwung River bank was inundated as deep as an adult chest, so that she and her family were forced to stay at a nearby evacuation center since January 15.
Although the flood water has been receding on January 19, she does not plan to immediately return to her house. Teaming up with other volunteers, Sulis helps serve and ease the lives of other flood victims who still crowd the shelters.
Sulis and her husband Tugiono (39) have been renting the house for almost six years. They have frequently suffered from flood. However, they never imagined that the flood would be so severe this time.
"Usually it is only up to people's thighs, but right now it is as high as people's chest," Sulis explains the inundation in her house.
Realizing they live in flood prone area, Sulis and Tugiono have prepared a strategy to anticipate such a disaster.
"We install a rack high on the wall to store our valuable belongings, such as mattress, TV set or other goods," says Sulis.
They have to leave most of their belongings at home when they abandon the house. Tugiono, however, keeps close monitoring to prevent any stealing.
Living in the flood prone area is not the ideal choice for couple and their children. But, with very limited income, they have no other choice.
"We stay here because we can pay cheaper rent, only 300,000 rupiahs (some US$ 32) per month," says Sulis. In a safer place, they may have to pay higher than 500,000 rupiahs (some $ 53) per month for similar property. "Moreover, in a safer place, the owners of rented houses usually ask for annual payment," she adds.
This family relies on Tugiono's income from selling rings adorned with natural stones at the sidewalk marketplace not far from their dwelling. A metal ring with such a stone usually sells between $2 and more than $10, depending on the attractiveness of the stone.
Sulis fully looks after her two children Adam Musaqi (6.5) and Ibnu Maulana (5.5), so she could not help her husband much in finding extra income.
To save money, Sulis sends her children to the state-sponsored Early Childhood Care and Development (ECCD) facility not far from their house. The two children are now at the same class. But in the next enrollment, Sulis will register Adam in elementary school while Ibnu will continue studying at the ECCD.
"We cannot afford to send our children to private kindergarten; it's too expensive," says Sulis, giving reason why she chooses to send her children to the ECCD center.*