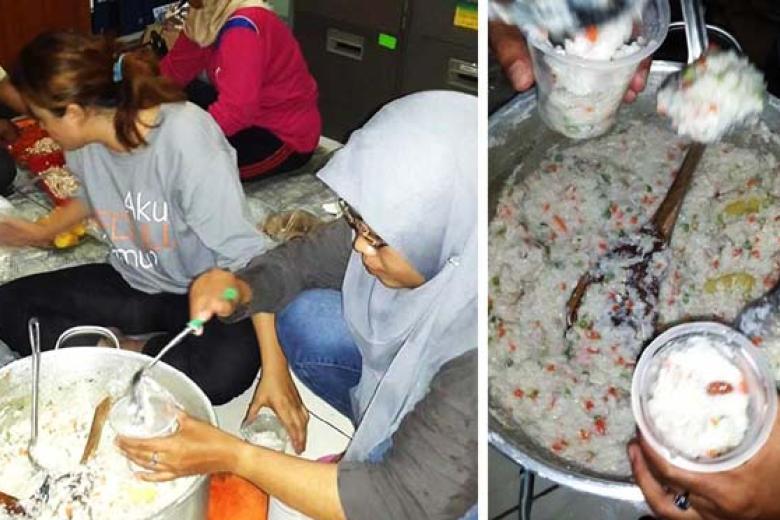 Distributing Healthy Food for Children
Friday, January 24, 2014
As floods inundated many villages across Jakarta and forced over 60,000 people into evacuation centers, under-five children are the most neglected age group. Often food distributions don't inlcude items which are suitable for children, only for adults, such as instant noodles. In many cases, young children consume this kind of instant food for days.
This situation has encouraged Wahana Visi Indonesia, special partner of World Vision Indonesia, to distribute healthy porridge for babies aged 1-2 years. This supplies important nutritional needs such as carbohydrates, protein, mineral, fat, and water for young children.
To avoid a boring meal, the porridge is mixed with other ingredients. The porridge that was recently served, for example, included rice, chicken, broccoli, carrots, red bean, and cheese. 
Wahana Visi prepared 300 cups of porridge for the young children in three evacuation centers in East Jakarta: Jatinegara health office, Jatinegara Koinonia church, and at a sport center at the Otista street.
Wahana Visi started distributing the healthy food on Sunday, 19 January, 2014. The program will continue a minimum of 7 days, depending on how people remain at the evacuation centers and the flooding situation in their neighborhoods.
Mothers welcome the distribution of the healthy food for their babies and gladly they exchange the previously-distributed coupons for the porridge.
"All the time we are here, my young children only eat instant noodle. Only this time, we get porridge. My baby ravenously consumes it," says the mother of Hamidan, 18 months.
Besides Hamidan, Muhamad Riski, 9 months, also enjoy this healthy food. His older sisters, Octaviani, 13, and Imatul Marati, 15, take turns to feed their younger brother with the porridge. Octa, who is now at the first grade of junior high school, and Imatul, third grader of junior high school, are used to helping their parents to look after their younger brother.
Wahana Visi staff, with the assistance of local health cadres, does not only distribute healthy food, but also advocates for mothers to prepare healthy food and on how to maintain their children's health.
To another young mother, Diah empathically says, "However difficult your challenge is, please do not stop breast-feeding your baby." The mother has a young baby and is still breast-feeding her baby.
Around 1,000 internally displaced people (IDPs) stay in the Jatinegara health office. They have been living there since 13 January. They come from Kampung Pulo and Kebon Pala villages, two neighborhoods severely flooded as they are located at the low lands right at the Ciliwung riverbank. (IDNO/Asih Silawati dan Bartolomeus Marsudiharjo)
 Rizki enjoy healthy porridge provided by the Wahana Visi Indonesia.
In addition to distributing healthy food, Cadre also provide counseling to mothers
in evacuation in order to continue to provide healthy food for children.