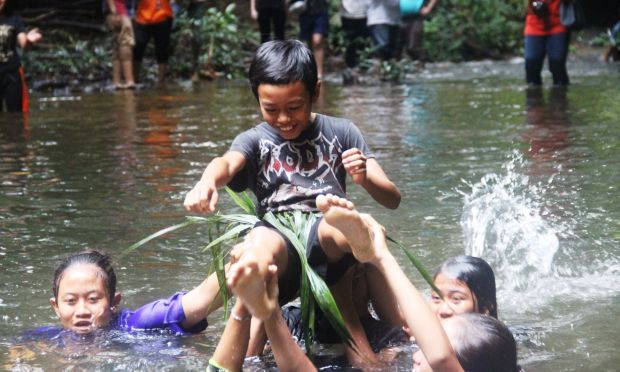 Sibus (14yo) is one of child forum member of Uncak Rentawan. Uncak Rentawan is a child forum at Jelimpo Sub-District, in Landak Regency. This area is a part of Wahana Visi Indonesia (WVI) Area Program in Landak, West Kalimantan province.
This child forum established on November, 24th 2016 and it already had a Village Decree. By having a Village Decree, the members of child forum Uncak Rentawan can get the fund for their operational activity. The child members that stay surround area finally can improve their knowledge, character, and ability by doing activities in child forum.
One of the operational activity was done by the member of child forum is to increase the capacity of the member by implementing activities. The activities will accompany by child facilitator to make sure the children keep safe and comfortable while running the activities.
At that time, WVI West Kalimantan Zonal staffs have an opportunity to meet the children of Uncak Rentawan, while they were conducting an outbound event with some volunteers on Voluntary Day event.
The event held by all the members of child forum. They managed and joined the event as participants. They were 32 members.
"We have to collaborate with each other to do many tasks. If there is no collaboration, there is no goal achievement," said Sibus.
Not only learn about values of life by playing some games, the event also did the talk show about child rights. The participants had been promising to finish their education and gave the spirits to other children to run the education properly.
One of the volunteers said that she was really happy to join the event with child forum members.
"We came from the city. We surprised that the children here have a great spirit even though they come from the village. We learned a lot from them. They have a willingness to learn even though they have a minimal facility at their village," said her.
Written by: Yoel Setiawan, Child Protection Specialist for Jawa, Sumatera, and West Kalimantan Wahana Visi Indonesia