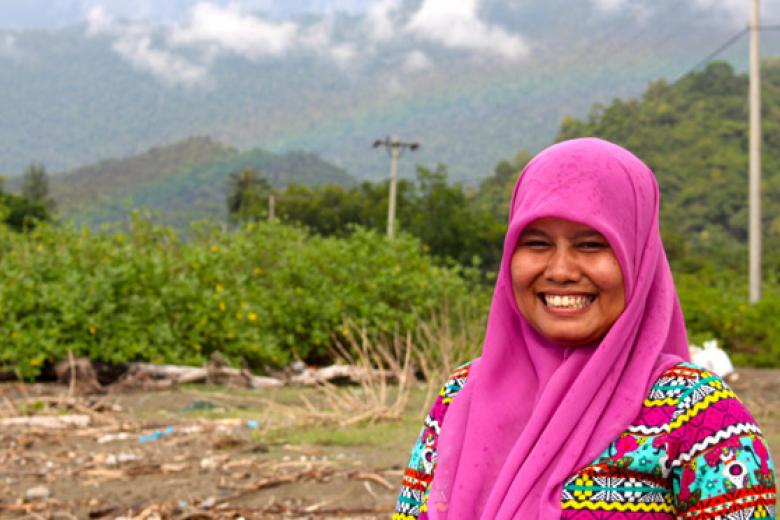 A dream born out of sorrow
Thursday, December 18, 2014
Vida, 24, is almost finished with her education in the Education Faculty, majoring in biology in Aceh.
"I want to be a teacher because I was impressed by the World Vision staff who taught us in the Child Friendly Space when we lived in a shelter after tsunami. At that time, I learned that a teacher's duty did not only transfer knowledge but also motivate students," said Vida.
When the tsunami hit her house, Vida was only 14 years old. She was very frightened because of that massive earthquake that occured right before.
"We ran as fast as we could to the nearby hill when people shouted about uprising sea water. Our family was suddenly torn apart and I could see my mother running behind me," said Vida.
The water rose even higher, but when she looked back she couldn't see her mother anymore. When the water slowly receeded, Vida found her family again except for her mother. She didn't know where her mother was.
Local residents including Vida's father went down the road to look for his wife. Sadly, Vida's mother was found dead.
Vida with other Pulot villagers survived on the hill by drinking coconut water and eating instant noodles. They got the noodles from a truck driver who got stuck during his normal delivery route.
Vida's family was evacuated to Banda Aceh and Medan. Some months later, they returned to her village, and joined almost daily with the Child Friendly Space (CFS) activities.
"I choose to join in CFS activities because I could learn more about child rights, dancing, and many things. I'm got more confident after I joined because every child got the chance to speak in front of people," she said.
With CFS, she received moral support that helped her recover from her traumatic experiences.
"I realized that I was not alone. The future still waited for me. It was the only motivation that helped me to move forward. It was also the motivation that triggered me to learn English like the World Vision staff at CFS," she said enthusiastically.
Healing children from traumatic experiences was one of World Vision focuses in their response to the tsunami disaster. More than 3,500 children benefited from the World Vision programme that lasted for two years. The friendship among staff and displaced people still lasts today. They are no longer teacher and student, but also close friends.
*Written by Shintya Kurniawan, Media Relations officer, World Vision Indonesia