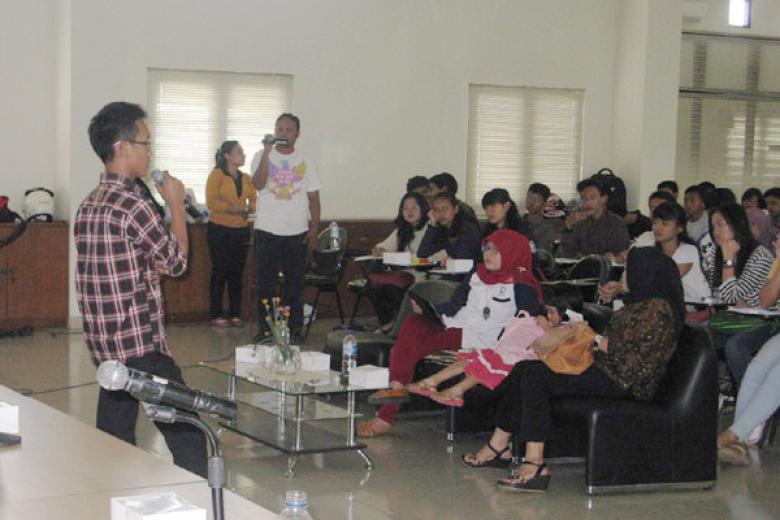 Fajar's interaction with World Vision
Sunday, May 11, 2014
When Fajar, now 19, was just a boy, he and his family lived a prosperous life. His grandfather had two boats that could catch many fish which generously supported the family.
But then everything changed.
His grandfather died when Fajar was 4-years-old, and with him the ease of life. His grandfather's house and boats were sold. The family was homeless and without income.
His mother found work as a shrimp scraper and his father worked as janitor in a local government bank.
"It was so difficult. We didn't have rice or instant noodles to eat. I sometimes did not have lunch and had to wait until my father returned home so I could eat," says Fajar.
Since then, Fajar's family moved several times from one rented house to another one in Cilincing village, North Jakarta.
Fajar learned about World Vision when he was signed up as a registered child in 2000, as a grade one student in elementary school.
Later on, Fajar joined the Cilincing Adolescent Group- his aunt Nia had encouraged him to join the group activities.
"Actually there are a lot of knowledge about children rights and information relating with HIV & AIDS," Fajar acknowledge about the benefits of joining the adolescent group.
A year of invovlement in the group, Fajar was selected as the group leader. He became more active in the group activities, although he admitted that he still had no courage to speak in public.
In 2010, Fajar joined Cilincing Children Forum. The forum was preparing a committee for the National Children Day celebration and Fajar was selected as the committee leader.
"For the day of the celebration, I had to give a welcome speech. Although I had prepared the speech, I did not expect a lot of attendance, but around 500 people including village and sub district heads came," Fajar tells about the unforgettable event.
"From that experience, I began to have the courage to speak in public," Fajar adds.
When Fajar sat at the third grade of senior high school, he was selected as leader of the Cilincing Children Forum. He was becoming more familiar in leading a meeting and speaking in public.
Fajar graduated from senior high school in 2013, and then continued to study in a one-year diploma program at Akademi Pariwisata Indonesia, an Indonesian tourism academy. He received a scholarship from World Vision to attend.
Growing from his experiences during the Children Forum and other World Vision activities, Fajar has enjoyed a positive transformation in his life.
*Written by Bartolomeus Marsudiharjo, Communication Field Officer, World Vision Indonesia
Fajar conducting interviews during the Cilincing Child Forum activities.