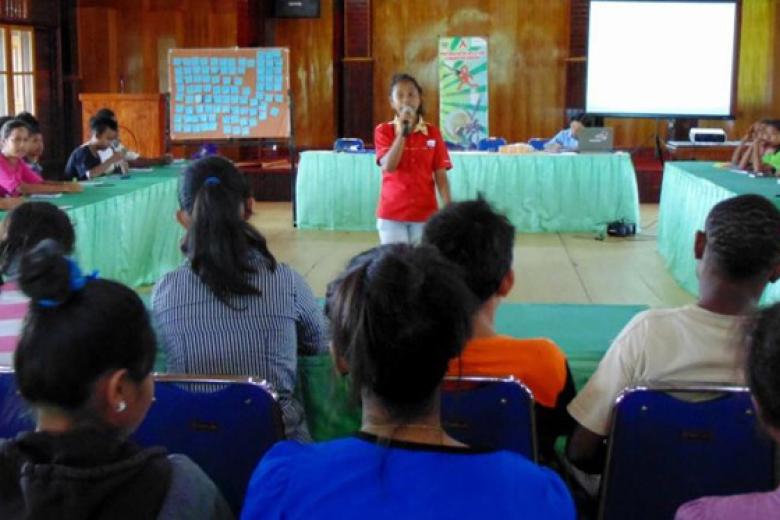 Foranker Helps Developing My Potential
Friday, February 7, 2014
My name is Katerina Irianti Demetow (15). My mother is from Papua province and my father is from Madura Island in East Java. I am the sixth of eight siblings. My family lives in Arso Timur sub-district in Keerom District, not far away from Papua capital Jayapura.
My acquaintance with the Keerom Children Forum (Foranker) started when I was at the second grade of Junior High School.
My colleagues, who have been joining the forum, asked me to join them and take part in the Foranker activities. Soon, I took part in the many training programs facilitated by Foranker, such as singing, dancing, leadership, child rights, peer educator training, how to be a facilitator/advocacy trainer, and many more. We also started doing socialization events to some schools and villages, organizing the Children Day, and even becoming the master ceremony in such celebration. 
I was a shy girl before, but as I was getting more active in Foranker activities, I'm growing to be a very confident and independent person. All the knowledge and trainings have indeed developed my potential and my life.
My parents, who formerly expressed their concerns that taking part in such a forum might bring more negative impact on my life, soon gave their support upon following my development.
Now that I am at the third grade of Junior High, I have even been chosen as the chair-person of the students' forum in my school. And my performance in class has also been improving. The Keerom Children Forum has a branch in each of the four sub-districts: Arso Timur, Arso, Waris, and Skanto. Besides joining Foranker at the Keerom district level, I have also been active at the Forum in Arso Timur, the sub-district where I live. 
I have a lot of activities with my fellow neighbors, such as in socializing the danger of HIV/AIDS and narcotics, women's issues such as the reproductive health, life skill education, screening films with positive messages, organizing the Children Day event, or working together with the community to clean our environment.
I have been chosen as the secretary of the Keerom Foranker, supporting Aldo Sopanema as the chairman of the Forum. We have mapped out a lot of educative programs to further develop the potential of Keerom children. With the support of all other agencies and local leaders, we hope all the programs would be able to run well.* (Written by Katerina Irianti Demetow, pengurus Forum Anak Kerom | Edited and Translated by Hendro Suwito, Communications Department of World Vision Indonesia)
Note: The Keerom Children Forum was initiated by the Keerom Area Development Program (ADP). Wahana Visi Indonesia, a special partner of World Vision, has been working with the community in Keerom to improve children education and welfare, to improve basic health, income generation, and other activities to create more sustainable development that would make the community more self-reliant.