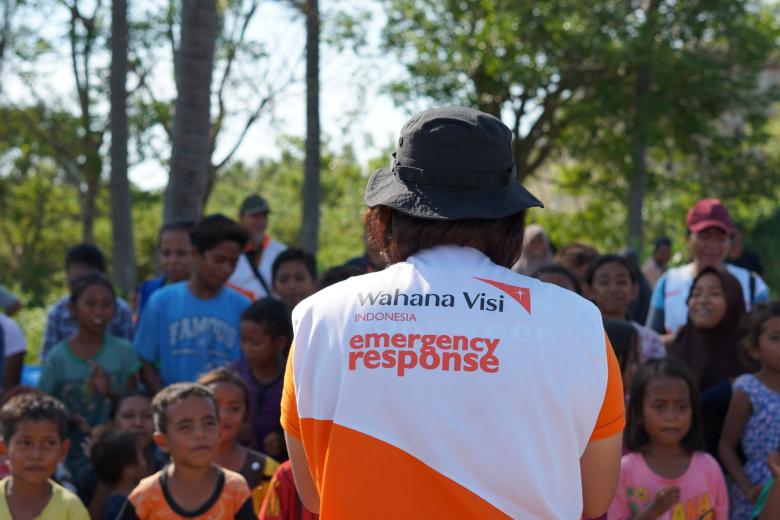 The Fun of Activities in Child-Friendly Space
Monday, October 29, 2018
It was already three o'clock in the afternoon, but the sun still shone brightly over Nurziran (also called as Ziran) and friends.  That day, Ziran (14) and more than one hundred other children gathered on one of the fields in Tawaeli sub-district to do activities with Wahana Visi Indonesia (WVI).
This was not the first time that Ziran joined the activities in Child-Friendly Space (CFS) facilitated by WVI emergency response team.  Every week now, the field becomes a witness of the cheerfulness of Ziran and her friends.
They sang, played together and were taught how to properly wash their hands, as well as practicing it directly.  It was not the first time that Ziran joined WVI activities. She has been joining various activities facilitated by WVI in her village since she was still in the 3rd grade. 
"I always have fun joining Wahana Visi Indonesia because there are always a lot of games and prizes for competitions," she said. 
Ziran loves WVI activities so much that she fondly remembered the National Children's Day celebration held a few years ago when she won the second prize for a competition.
Ziran remembers all the fun with WVI although now she has to live in a tent with a very limited condition.  Ziran spends her time in the tent after being displaced after the earthquake; experiencing extreme heat during the day and freezing cold during the night.
The girl who is now in 8th grade has a great aspiration for herself to be a doctor.  Her spirit has not been broken, although much sadness has come into her life.  Living without a mother since she was a baby possess its own challenge for Ziran and sets her apart from other children.  She has to be live her life without sweet advises of a mother, but her grandmother had taken that loving role for Ziran.
Post the earthquake that hit Central Sulawesi on September 28, 2018, Ziran once again had to lose a very important person in his life: her grandmother. 
"Before the azan [prayer call], I wanted to go to the mosque but the earthquake happened.  I ran away beside Ibu Lasmita [her neighbor] when I immediately remembered my grandmother.  I shouted, 'Grandma! Grandma! I want to go with grandma,'" Ziran told her story.
Together with her aunt and uncle, Ziran managed to take her grandmother up in a mountain area.  They spent a week there because they were too afraid to come back. They then came back down to evacuation camp that was located near where they lived before. 
"Once we were in the camp, I felt really cold at night because we didn't have any blanket, pillow or even mattress. We only slept on the grass with my family," she said.
Ziran said that her grandmother then fell ill and refused to eat or drink anything. The earthquake had shaken up her grandmother quite badly and caused her to pass away just five days after that fateful day.
"I was asked to call my aunt when grandma fell very ill, but when I arrived back to the camp, she was already gone," Ziran said sadly.
Ziran with hundred other children in evacuation camp is still waiting for emergency school as promised by many people to them.  One month after the earthquake, Ziran still holds on to that promise so she can continue her schooling activities and wear her uniforms again. 
Written by: Putri ianne Barus, Field Communication Officer Wahana Visi Indonesia