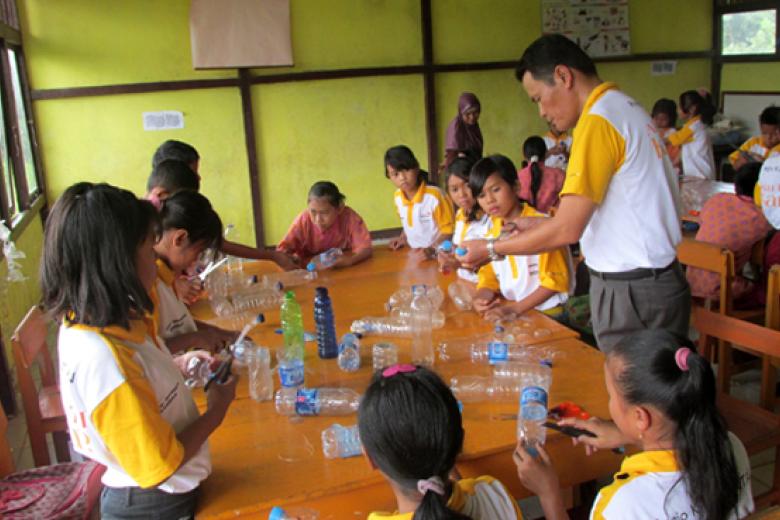 Garbage has economic value
Wednesday, July 22, 2015
Earlier this year, Wahana Visi Indonesia's Sambas Operational Office trained students from three elementary schools, replicating the Green School programme, on how to make handicrafts using recycled materials like plastic bottles and newspapers, in Teluk Keramat Sub District in Sambas District.
The activity is led by Jailani, who is a member of Green School spreading team, and Juraina, an integrated health post (Posyandu) cadre in Lela village. Before the students practice, Jailani show examples of handicrafts like a bag made of candy wrappers and plastic straws as well as tissue boxes made of used newspaper.
Through the training, Jailani has inspired school children not to throw garbage in improper places because garbage can be used to create useful things that have economic value.
Meanwhile, Lela demonstrates how to create flowers from plastic bottles. Children who participated in the training feel happy to learn new knowledge and skills. Now they know that garbage does have a lot of benefits.
"I will collect used things like bottle plastic and newspaper or magazine and will create useful things," says Inul, student of fifth grader who is also a sponsored child of Wahana Visi.  
Ivan, Gugun, and Cindi, who are fourth graders, hope that they will have a similar opportunity, because they have never had this kind of training. 
*Written by Simon Sinambela, Education Coordinator, Wahana Visi Indonesia at Sambas operational office