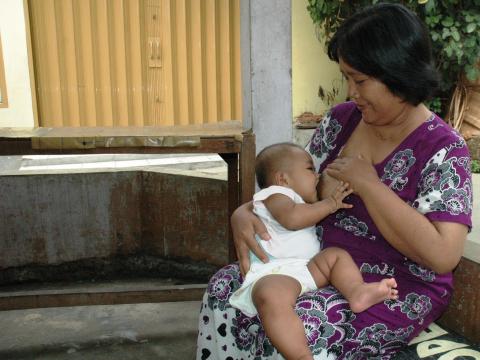 Giving the Best from Limitation
Tuesday, October 16, 2012
Agih Rotasi stands in front of her simple, white home, having just returned from work as a laundress.

Although she works hard, Agih's beaming smile conceals any weariness she may have been feeling.  Her husband is unemployed, and their eldest's job doesn't bring in enough income, so Agih must work for her neighbour.

Poverty and unemployment hasn't stopped Agih from her determination to provide the most nutritious food for her children, and to give them the best start that she can.
 
Even at 41, Agih continues to breastfeed her babies when they are first born.  Her fourth child, Rizki, is still exclusively breastfeeding at four months of age.

"My first child was also breastfed, given the best milk of all milks. Only breastfeeding. It is easy to give. I don't need to wake up to prepare formula milk," Agih firmly says.

Agih is aware of the many benefits of breastfeeding for her children's growth and development.

"They seldom get sick and they have sharp minds," Agih shares. Agih is also aware that breastfeeding is not only beneficial for children but also for the mother.

"For me, it has proven to restore the womb after delivery, and to delay pregnancy," she says.


Breastfeeding is the best milk, of all milks...
Determined to continue exclusive breastfeeding while she works, Agih must divide her time between work, household chores and feeding baby Rizki. Whenever Agih is at work, her husband brings Rizki to her work place, which is only about 150 metres from their home.

"Early in the morning I give Rizki milk. In two hours I return home to breastfeed, and later, if I am still at work, his father will bring him to my work place," Agih explains.

Agih gained knowledge about breastfeeding and its benefits when she participated in Pregnant Mother Post, at the integrated health post, and Breastfeeding Support Group – activities facilitated by World Vision Indonesia. These sessions were facilitated by the Cawang Area Development Programme (ADP) where Agih and other mothers share their experiences on delivery and breastfeeding.

Agih has been challenged by cultural ideals in the village she now lives in.  Raised in Bogor, East Java, Indonesia, where breastfeeding is considered to be natural, Agih has taken what she knows from growing up and added to that knowledge that she received during counseling activities in the Pregnant Mother Post. Various myths surrounding breastfeeding were dispelled through her counseling.

"Salty fish is said to make breast milk putrid.  When breastfeeding, we are told that we should shake our breasts to prevent the milk from getting stale," she says.

Agih learned through the Pregnant Mother Post that fish is a rich source of protein and that massaging breasts is not done to prevent milk from getting stale, but to stimulate milk production and flow.

"I come from Bogor where it is taught that I should breastfeed.  They say that infants should get milk from their mothers (human beings), and not given cow's milk. That's how they teach us."

Agih believes that breastfeeding is best. She hopes that other mothers will also participate in the Pregnant Mother Post, integrated health post, and the Breastfeeding Support Group in order to learn to give the best for their children.  Unfortunately, when invited, some mothers are not willing to come.

"Not many mothers understand the benefits of breastfeeding and how to care for ailing children. Even when a child has sprue, mothers are at a loss.  My hope is that mothers participate and become well informed.  They can gain more knowledge.  When invited they often say they are busy.  For me, I am also busy but I can gain knowledge by participating."

For Agih, regardless of her own limitations and those of her household, she is motivated to continue breastfeeding.  "My motivation is that I don't have enough money to buy formula milk and I want my children to be healthy."

Although she faces challenges and limitations, Agih is still motivated to give the best to her loved ones.  How about us: how motivated are we?
August 1 to  7, 2013 is World Breastfeeding Week - read about it here.