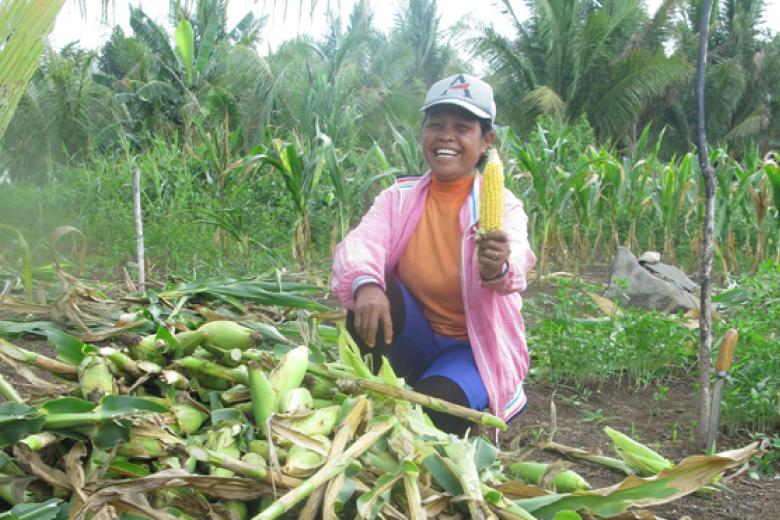 The heroine from Warudu
Friday, March 27, 2015
In Warudu village, North Halmahera, most families work as copra farmers. The lack of information about education for children often causes them to neglect their children's future. But in the midst of difficulty, Rahel, 52, becomes a heroine for Warudu children.
Rahel is a mother of 3 who lives modestly in Warudu. She used to work as an Early Childhood Care and Development (ECCD) teacher. She joined Wahana Visi Indonesia, a partner of World Vision in North Halmahera, as a cadre and tutor of Child Learning Group (KBA).
She saw how most primary school students in her village still couldn't read and write fluently. This is the reason why she wants to help them.
"Being a volunteer teacher is a kind of service that I could do for the people. I'm happy because the numbers of children who come to our KBA is increasing day by day," said Rahel.
Today, there are more than 30 children who join the KBA.
Although she works alone, she never gives up. When her husband asks her to quit, Rahel refuses. Her husband thinks that Rahel's activities don't bring any benefit for her family.
Everything is worth the effort. Renis Mami, 50, the headmaster of Warudu primary school admits that children's attitudes have changed a lot after taking part in KBA.
"KBA brings positive impact for our students. The students who previously couldn't read and write are able to read and write fluently now. KBA really helps us," she said proudly.
Parents whose children join in KBA finally began to appreciate the work Rahel does because they see the many positive changes in their children's daily life.
With all her selfless efforts, Rahel deserves to be the heroine from Warudu, a small village that is starting to care for their children's future through education.
*Written by Yon Silaen, Field Facilitator, Wahana Visi Indonesia at Halmahera Utara operational office