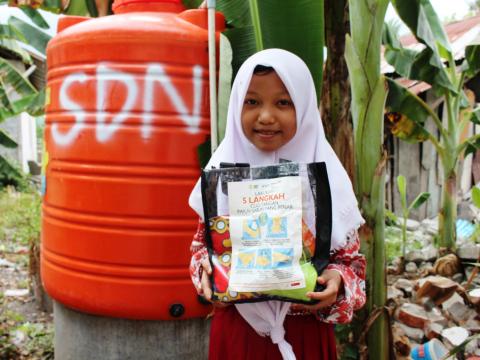 I Have My Own Toothbrush
Monday, December 17, 2018
It was used to be hard for Angel to adapt to the new situation after the earthquake and liquefaction in Sigi, Central Sulawesi. She could not forget the bad experience that she needed to face on that day when the disaster strike. Angel was in her house with her mother, waiting for the dinner to be ready. She would like to eat her favorite meal: fried fish that her mother was preparing at that time. However, in a sudden, the ground was terribly shaking while mud and water sprayed from the ground. The earthquake hit. Angel's house was full of mud.
"I could only hug my mother at that time. I could not even stand up and run out of home. I was afraid," said Angel recalling the terrible experience.
Angel's mother, Meiske, 49, could not do anything except escaping from the damaged house. Mud and water almost filled the entire house. They could not escape until Meiske saw the big hole in the wall.
"We saw the big hole that we could escape from our own house. I could not meet my eldest child and my husband at that time since they were out of home. However, I could meet them at the day after. Thank God, they were safe," told Meiske.
The next day, Angel and her family should stay at the evacuation post. With very limited facilities, Angel need to stay in the new environment. They even need to move to the relative's house temporarily.
"I also remember that I did not have my own toothbrush and soap at that time," said the sixth grader of primary school.
However, the situation has changed three months after the disaster. Everything is getting better. Although Angel and her family are still living at their relative's house, currently she has come back to school to study. Angel also had her own toothbrush after WahanaVisi Indonesia for Central Sulawesi Earthquake and Tsunami Emergency Response distributed hygiene kits consisting of a toothbrush, toothpaste, soap, and towel.
"Now, I have the toothbrush. I am happy that I can brush my teeth with my own toothbrush and toothpaste," said Angel.
Currently, Wahana Visi Indonesia has distributed 445 children hygiene kits for the affected children in Palu, Sigi, and Donggala. Through the distribution, the children are expected to get more qualified and healthier life. Further, through Central Sulawesi Earthquake and Tsunami Emergency Response, WahanaVisi Indonesia aims to assist 20,000 households, approximately 100,000 people, with food, non-food items, hygiene kits, emergency shelter, nutrition, and protection, especially for women and children.
Written by: Rena Tanjung, Field Communication Officer Wahana Visi Indonesia