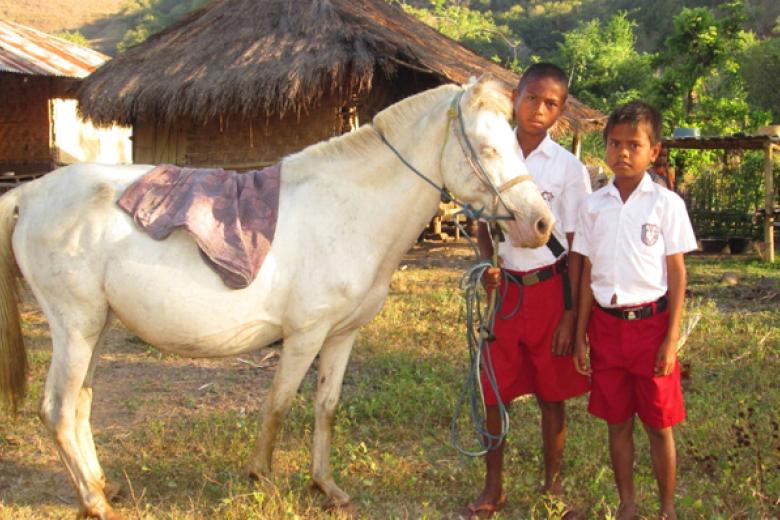 I Ride My Horse to School
Friday, November 7, 2014
It's 6.30 a.m. and Andang, 13, loosens the horse strap which is wrapped around a pole near the kitchen. He needs to leave for school immediately because it is 3 kilometers away from his home. His brother Alvin, 10, follows him.
After both boys are ready to go, Andang starts to draw the reins. And in a few moments, their horse is walking through Tanamitting land. Andang knows the way to ride his horse, to control the reins, and to stop. He seems to master everything about horse riding.
In Sumba, Andang means "street". He gets this name because he was born on the street. His mother wanted to deliver her baby in the hospital in Waingapu town, but since the town was far away from their village, Andang's mother suddenly gave birth where she was- on the street.
With this name, Andang grows up to be the "King of the Street", riding a white horse to school.
Everyday Andang and Alvin go the school together. They have to cross the wide river and across stony roads. When the rainy season comes, the boys really depend on their horse to reach school.
The brothers keep their enthusiasm and prove it with good scores they get in class.
"Overall, their scores are good," said Debri, a teacher of SDN Tanamitting, the primary school of the boys.
For Andang and Alvin, riding a horse to reach school is not a problem at all. They believe that by having education in school, they will have brighter future and able to reach their dreams.
"I want to work for the police," said Andang.
"I want to be a primary school teacher," shouted Alvin.
Hopefully, their enthusiasm keeps running fast every morning, just like the marching sound of their horse that brings them to school. 
*Written by Beatrix Mbete, Monitoring and Evaluation Officer, Wahana Visi Indonesia at Sumba Timur 1 and 2 operational office