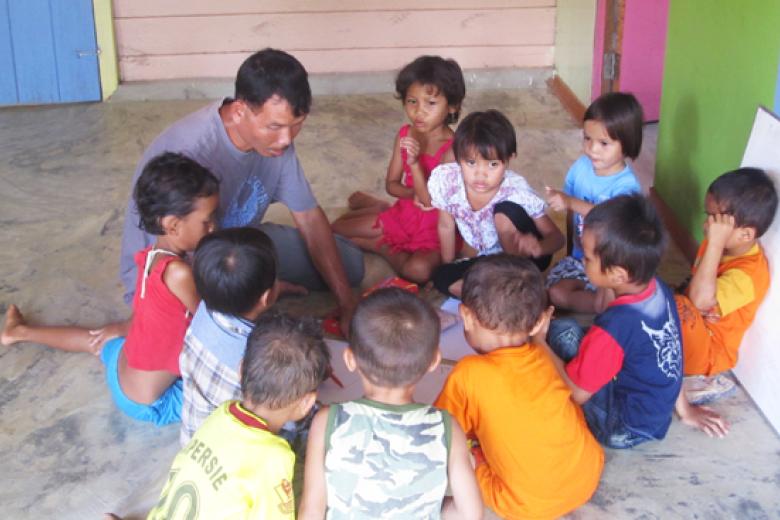 If it is not me, then who?
Wednesday, August 19, 2015
With all of his limitation, Tobing determines to devote his time to the early childhood care for development (ECCD). The friendly and enthusiastic man is one of tutors at Efata ECCD in Bemuran that is served by Wahana Visi Indonesia's Singkawang Area Development Program. Tobing always tries to facilitate young children with activities in an interesting way. 
"I want to see successful children in this sub village, but there is no person care, including their parents. If it is not me, then who will teach them," says the father of two children, recalling one thing that motivates him to work voluntarily for children.
The children's enthusiasm to follow ECCD activities has motivated Tobing to work voluntarily for them. The children often gather long time before the EECD activities start. PAUD Efata in Bemuran Sub Village is around 8 kilometers from Sungai Betung Sub District and around 15 kilometers from Bengkayang District in West Kalimantan. There are 72 families living in this sub village. The access to the sub village is bad. Community people in the village have not enjoyed electricity as well.
Community people and local government agreed to establish Efata ECCD in Bemuran on 10 August 2010. The ECCD was established altogether with four other ECCDs in Sungai Betung Sub District. Tobing has been four years working as Efata ECCD facilitator in Bemuran Sub Village. He has met joy and sorrow. But the challenge that he faced did not dim his enthusiasm in serving children. Tobing's hard work does not go in vain. Elementary school children who previously learned at Efata ECCD are proved to be able to learn faster than the other children who did not learn at the ECCD.
"Children who learned at ECCD are more courageous and more brilliant at school," says Tobing recently, imitating the statement of Normawati, teacher of SDN 4 elementary school in Keranji.
*Written by Timotius Winner, Field Facilitator, Wahana Visi Indonesia at Singkawang operational office