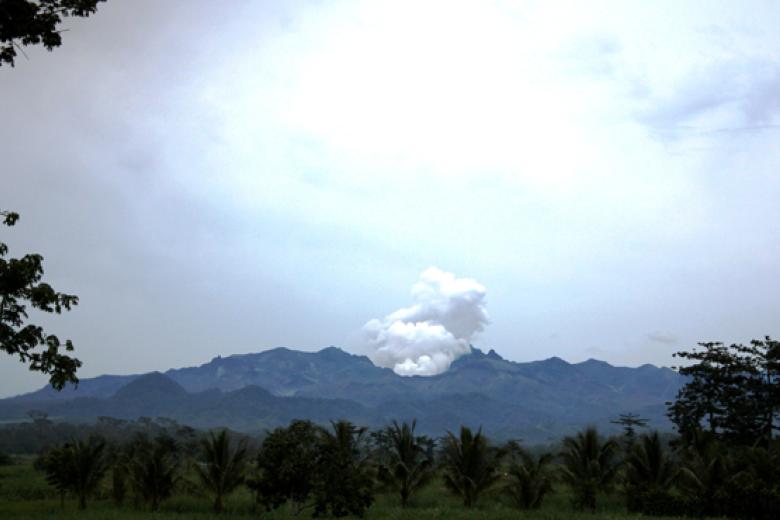 Indonesia: Mt. Kelud's Huge Eruptions Shower Gravel and Ash on Neighboring Cities
Friday, February 14, 2014
Mount Kelud, one of the most active mountains in Indonesia, began erupting again at 10:50 p.m. (GMT +7) on Thursday, February 13, showering volcanic ash and rocks on towns up to 30 kilometers away. The first eruption was followed by scores of other eruptions throughout the night.
The mountain, situated near Kediri, Blitar, and Malang districts in East Java province, spewed molten lava, ash, and gravel which flew as high as 10 kilometers. Volcanic ash is causing reduced visibility and danger to aircraft engines and has forced the temporary closure of three international airports -- Jogyakarta, Solo and Surabaya.
The mountain, situated near Kediri, Blitar, and Malang districts in East Java province, spewed molten lava and also ashes and gravels which flew as high as 10 kilometers.
Thousands of villagers living close to the crater quickly abandoned their houses and rushed away to scores of temporary shelters at some public places and tents as were previously prepared by the authorities in Kediri and Blitar.
People used their motorcycles, cars, and trucks to flee their villages as volcanic ash showered the area and limited the visibility to just several meters. The local authorities have urged about 200,000 people living in 36 villages within 10 kilometers (6 miles) of the crater to evacuate.
Residents of Malang city, about 30 kilometers away, reported last night that thick cloud of ash from Mount Kelud was hanging over the sky.
The 1731 meter-high-mountain has shown rising activity over the last few weeks and some experts have predicted its eruption. Therefore, the authorities have made some preparation to anticipate the flow of people whose villages might be impacted by the disaster.
There have been no immediate reports of any casualty or damages of properties. The huge eruption has triggered tremors which could be felt as far as 50 kilometers away.
Mount Kelud has erupted several times during the last century; in 1919, 1951, 1966 and 1990. The 1990 eruption, which lasted for 45 days, spewed over 50 million cubic meters of volcanic material. In 2007, the mountain also showed rising activities, but did not result in an eruption.
World Vision Indonesia no longer has any community development programs near Mount Kelud. The nearest project is in Surabaya city, capital of East Java, some 90 kilometers north-east of Mount Kelud, funded by World Vision Australia and United States.
World Vision's emergency relief team from Surabaya is deploying today to the nearest safest town of Kediri to conduct a need assessment in Kediri and Blitar. We will continue to coordinate closely with other agencies and the local government on the developments of the situation.