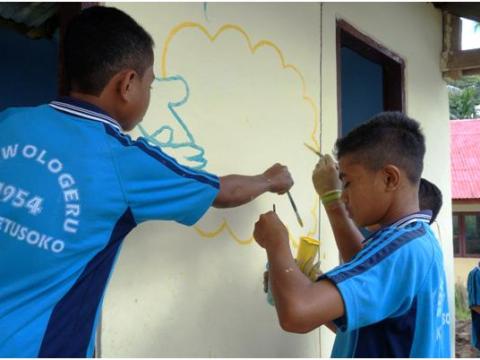 Innovating for Good: Soapy Hands make for Healthy Children!
Tuesday, July 31, 2018
Each morning, children arrive at school ready to learn, study and play.  Globally, 443 million school days are lost each year due to water related illnesses of which 272 million are due to diarrhea alone (Global Handwashing Partnership).  In Indonesia, diarrhea is one of the main causes of death in children. Handwashing with soap at critical times (after using the toilet and before eating) can drastically reduce the incidence of diarrhea.  School-based handwashing interventions reduce up to 54% of school absenteeism.  There is a simple solution which can make a huge difference: handwashing with soap.  Handwashing with soap in school is a simple, healthy habit - but one that is often ignored.
To improve the situation, WahanaVisi Indonesia (WVI) partnered with KOHLER Company, through Kohler's Innovation for Good program, to work together on a project to develop innovative, child-friendly handwashing facilities and program for a primary school in a village of Randoria, located in the small city of Ende, East Nusa Tenggara Province. Ende is located on the southern part of Flores Island. Ende has a population of 60,000 residents, which actually makes it the largest city on the island.
The partnership with KOHLER Company's Innovation for Good was facilitated by Asia P3 Hub, a World Vision-hosted incubation hub for multi-sector partnerships. The Innovation for Good program sends association sabbatical to be embedded with one of KOHLER's partners to gain field experience and "real life" insights.  Kohler engineer James Bourne arrived from Kohler UK in February 2018.  He spent two months working with WVI in Endefull-time to lead the design and development of handwashing and sanitation facilities at the elementary school, using a Human-Centered Design approach.
The Human-Centered Design Process
The Human-Centered Design (HCD) approach consists of three main phases: inspiration, ideation, and implementation.  A workshop was convened for each phase, facilitated by James. The first workshop engaged local Ende-basedWVI staff.  The staff were introduced to the HCD concept and created the tools and processes for field observation and interviews to gather insights from the end users and community members. James and WVI Ende team gathered data from the community, parents, schoolchildren, government staff, and health workers about their current knowledge and practices on sanitation and handwashing, as well as their aspiration for hygiene and sanitation conditions for their community. 
The data was used as discussion points during the second workshop – the ideation phase. Just as the name suggests, many design ideas were explored during this workshop. The participants in the workshop included village authorities and teachers who later formed part of the "design team". At the end of the second workshop, the team created prototypes for handwashing and sanitation facilities (the "hardware") as well as an education program for handwashing promotion (the "software"). Prototypes were tested at the elementary school to assess how they worked in the real setting.  School students were involved in this process, testing the new handwashing stations. After that, a detailed design of handwashing facilities was crafted for the implementation phase. 
The implementation phase entailedJames, the WVI Ende team, village government representatives, school officers, local entrepreneurs and villagers working together to build the new facilities. Five facilities were constructed: three group handwashing stations, one handwashing station for teachers and one clean water piping system from water storage attached to handwashing facilities and toilets.  "Nudges" – or reminders (see Figure 2) - around toilet and handwashing facilities were also introduced. Because water is limited in the village, a rainwater harvesting system was also built to support the utilization of the facilities. The facilities were designed with a low flow rate to conserve water. Students helped make nudges which were the environmental cues to lead and encourage children to wash their hands right after toilet use. Children explored their ideas and creativity to make the nudges which include painted footsteps from toilets to handwashing stations as a direction to lead them to wash their hands directly after toilet visit, and the handwashing messages on the toilet wall, and creative paintings around toilets and handwashing stations.
Multi-Stakeholder Participation
The project was a collaborative one involving the government (represented by school officers and health workers), local community members, local business and school students.  Their voices, ideas, and energy fueled the entire process. One participant stated that the most successful aspect of the course was "when our design met the need of community we were designing for".  The project wouldn't have been finished on time without the help of these important stakeholders – neighbors and community members.  The village government authority rallied their community and offered tremendous practical support as well. They assisted with drainage digging, transporting materials, fence making, plumbing and other necessary work, and also contributed stone and gravel. This support was instrumental to completing the project on time since the team was working on an aggressive schedule – there were only two weeks for implementation. 
Zakarias S. Rowa, Head of Randoria Village said that "I am happy that teachers and parents were involved in this project. In the beginning, I was not sure if we could build the facility because of the limited time we had. But we finally made it, thanks to a great collaboration with WVI. We were also involved in design workshops, which were very useful for us. Through this handwashing project, we can change the health behavior of children which is handwashing with soap to improve their health status".
Lessons Learned
The WVI team enjoyed learning about both the HCD concept and the technical steps in planning, designing, implementing the project. They learned a lot from this experience. The HCD approach is well aligned with WVI system and values, which consider the interests, needs, and context of the people for whom solutions are designed. The key success factor in the process is the proactive engagement of the stakeholders and community members throughout all phases of the HCD process. HCD provide a structured and systematic approach for this type of project, which was welcomed by all participating.
The team feels this short project was a success and would like to replicate this approach with other schools and public facilities such as Integrated Health Centers and Early Childhood Development Posts. Key aspects to make the project successful are: a spirit of partnership, stakeholders and beneficiaries' involvement, good planning, communication, community mobilization, resource sharing, and solid teamwork.
The total time this project took from planning through implementation was less than two months. Although quite short, the team worked hard and succeeded to build the facilities.  Drawing on the lessons and experience, in future more time needs to be allocated to prepare the training program and materials well beforehand, and to approach and prepare stakeholders such as the school committee and district government to be involved in the process. With more advance preparation and planning, financial contributions from school and village community towards such a project could also be tapped.
Impact
Monitoring the new handwashing practices is underway.  While still early stages, we have seen improvement in handwashing practice among students. With the group handwashing station installed right in front of classrooms, it is accessible for children before class, after play, and before eating (the critical times determined during the workshop). Group handwashing is considered a fun activity; it encourages children to wash their hands together with their friends. 
"Our school has changed and become more colorful.  My friends and I can wash our hands more often using the new handwashing stations. Back then we did not like washing hand because water was limited", said Yustina, a 3rd grader.  "We used to carry water to the toilet using a 5-liter jerry can for about 300m distance. But now it is easier because there are taps in the toilet, and we can also wash hands near the toilet", added Ergen, a 5th grader.
Appreciation
WVI would like to thank our hardworking and passionate KOHLER engineer, James Bourne, for facilitating and leading us throughout this project. We would also thank Asia P3 Hub who made this partnership possible. Our gratitude goes to the sponsors from Singapore who helped us finish the project by painting the nudges and handwashing messages. Last but not least, we would like to thank all the stakeholders and community members who participated in this project. This partnership across countries, professions, and cultural barriers have proved that with the same vision we can work together as one team.
WVI believes that sanitation is an important part of a strong health foundation.  Teaching handwashing as a habit from an early age helps reduces the incidence of infectious disease so children can enjoy arriving at school each day ready to learn and play!
 Written by: Nike Frans and Angela Lapuimakuni, Wahana Visi Indonesia - Area Program: Ende, East Nusa Tenggara