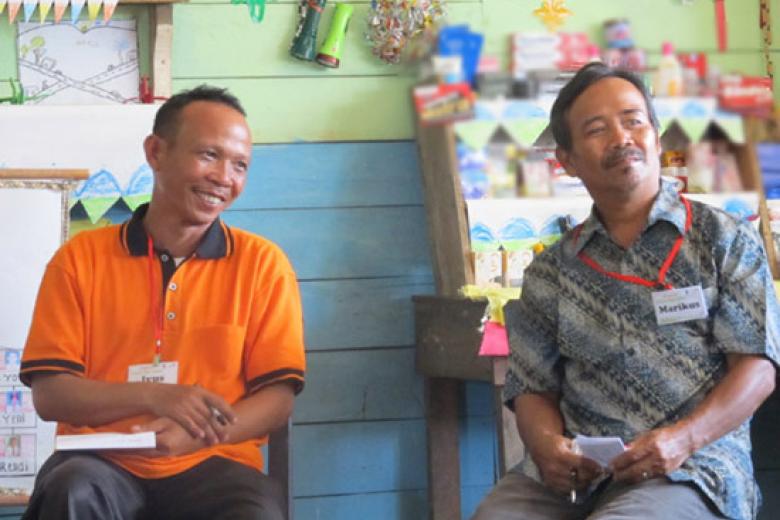 Iyus – Marikus, Motors of Green School
Tuesday, July 1, 2014
The success of SDN 07 Sasak elementary school in Sambas district, West Kalimantan, in implementing Green School could not be separated from the role of Iyus, 45, and Marikus, 50. They are motors of the program implementation. Iyus is headmaster of the SDN 07 Sasak and leader of Green School spreader team while Marikus is SDN 07 Sasak school committee team leader. They both actively motivate and support SDN 07 Sasak in making better change in the school.
Iyus becomes model for other teachers in his school and he always motivates the teachers to make a better change. Iyus always communicates the need and development of his school to Marikus. Marikus is an amazing person who is always agile to help fulfill various needs of SDN 07 Sasak.  He actively asks what other school's needs he can support. Marikus also moves community people, especially students' parents, to work together to improve the school quality in serving students. Iyus and Marikus always coordinate to create funny learning atmosphere to improve the quality of education and students achievement. They schedule the last Saturday in a month as a mutual cooperation day that involves students' parents in cleaning school compound.
In a talk show of spreading activity that brings a theme "Change Story of Sambas Green School", Iyus and Marikus naturally tell that willingness is the most important thing a person must have to make a change. Iyus and Marikus dare to sacrifice their time, energy, and material to realize their good willingness.
"As long as we sincerely do best things for our children, I believe that whatever the result will be good," says Marikus. "By that way, community people can witness positive things that were done together."
The interactive talk show could enrich attendants that come from the school intended to replicate the Green School. The attendants say they are motivated to do the best things for their school in order to provide better education for their children.
They witness that the Green School brings very positive impact for education in Sasak. Iyus, Marikus, and members of Spreading Team keep supporting the continuation of Green School program in the school as well as spreading the program to other schools. "In order that there are more children getting benefit of green school," says Iyus.
*Written by Angel Supit, Campaign Officer, Wahana Visi Indonesia at Sambas operational office